The Value of Accreditation
There are several accreditation bodies that have recognized BayCare breast centers.

The American College of Radiology (ARC) Gold Seals of Accreditation. The ACR designation, administered by the ACR's Commission on Quality and Safety and the Commission on Breast Imaging, recognizes a center's dedication to improving women's health by participating in these rigorous quality assurance programs.
Our facility has voluntarily gone through a vigorous review process to ensure that we meet nationally-accepted standards of care.
Our personnel are well qualified, through education and certification, to perform medical imaging, interpret your images, and administer your radiation therapy treatments.
Our equipment is appropriate for the test or treatment you will receive, and our facility.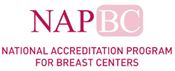 The National Accreditation Program for Breast Centers (NAPBC).
Accreditation by the National Accreditation Program for Breast Centers (NAPBC) is granted only to those centers that are voluntarily committed to providing the best possible care to patients with diseases of the breast. Each breast center must undergo a rigorous evaluation and review of its performance and compliance with NAPBC Standards. To maintain accreditation, centers must monitor compliance with NAPBC Standards to ensure quality care, and undergo an onsite review every three years.

The National Consortium
of Breast Centers.
The vision of this organization is to positively impact quality breast care and improve the experience, satisfaction and outcomes of the breast care patient as well as the care providers, while being recognized as the premier organization supporting interdisciplinary Breast Centers in the world.
What should I know about radiation safety?
Before your imaging procedure be sure to ask your physician the following questions:
Why do I need the test?
How will having the test improve my care?
Are there alternatives that do not use radiation and deliver similar results?
Is the facility accredited?
Learn more about Healthy Screening Practices