Cutting-Edge Medical Virtual Reality
St. Joseph's Children's Hospital is now using virtual reality imaging technology to see inside children's hearts and brains like never before. Our physicians use this tool to plan surgeries and engage patients and their families in a whole new way.
By combining F-16 flight simulator technology with Virtual Reality, traditional 2D medical images (CT, MRI, etc.) can be fused together to create a 360 degree reconstruction of a patient's anatomy. Surgeons can "fly through" the anatomy and pre-plan surgery similar to how a fighter pilot pre-flies through their mission. Surgeons and patients alike can view this reconstruction on a wall-mounted viewer or in virtual reality.
Medical Virtual Reality is currently being used by doctors in our neuroscience, orthopedic and heart and vascular departments.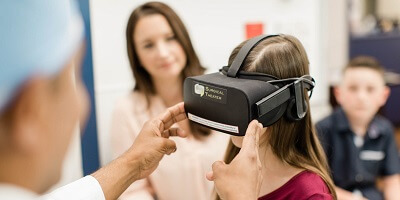 Virtual Reality
Using virtually reality goggles and a set of remote controls the surgeon, patient and their family can walk around inside the patient's own anatomy, seeing it from all angles and gaining unparalleled knowledge and understanding of the child's complex condition.
Surgical Planning
Surgeons can "fly through" the brain in virtual reality to locate medical issues and then study them from every angle. This 360 degree view is important when creating a sophisticated surgical plan. Surgeons can pre-plan by testing surgical approaches to find the best option based on the reconstruction of the patient's anatomy, leading to increased surgical efficiency.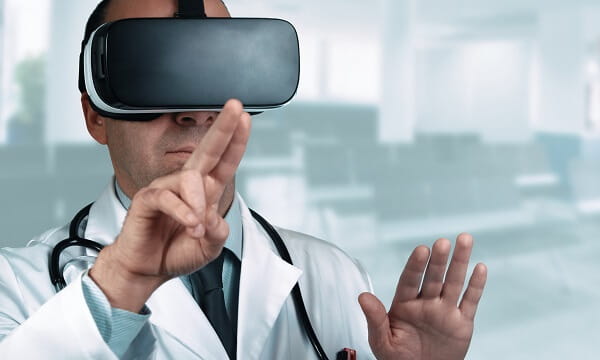 Patient Experience 
Doctors can virtually walk a patient through their own anatomy to teach patients and their families about their diagnosis in a way they can understand. Patients and families are better informed and so they ask better questions. They gain a deeper, more complete understanding of their diagnosis and treatment. This experience can add a level of comfort and confidence moving forward.