Labor and Delivery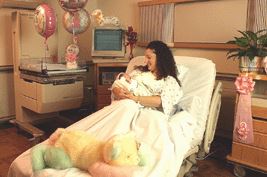 You're having a baby! Four words that begin a lifetime of treasured memories. So why not choose a hospital whose dedication and experience has touched the lives of countless families across the Tampa Bay community?
New mothers and their partners deserve to be as comfortable as possible. That's why:
We have 21 private and spacious labor/delivery/recovery suites with in-room telephone, television, bathroom and comfortable birthing beds.
We offer 24-hour anesthesia coverage provided for pain management during childbirth and for cesarean section deliveries.
We have exceptional professional nursing and medical support during labor and delivery.
For cesarean section deliveries we offer Family Centered Delivery allowing mom, dad and baby to remain together.
We encourage no more than three visitors at a time and suggest no children under age 12 visit unless they are siblings of the newborn.
Check out our tips on what to bring so you can be prepared.
For more information about the maternity program or childbirth classes, please call the Women's Health Resource Center at (813) 872-3941. You may pre-register for your delivery online for your convenience.
Learn more about a physician referral, download the I Expect Planning Guide or register for an upcoming class or hospital tour.
This is a friendly reminder that in order to be discharged from St. Joseph's Women's Hospital you will need to have a car seat for your baby. Please be advised that St. Joseph's Women's Hospital does NOT provide car seats. Learn more about car seat safety.