James M. Irwin, MD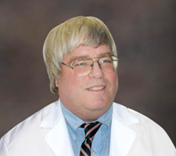 Electrophysiology Lab
Certified by the American Board of Internal Medicine Dr. Irwin received his B.S. from Texas Christian University (Ft. Worth, TX) and his M.D. from Penn State University (Hershey, PA).
He completed his internal medicine residency at University of Pittsburgh , Presbyterian and Veterans Administration Hospitals (Pittsburgh, PA) and fellowship training in Cardiology/Electrophysiology and Pacing at Duke University Medical Center (Durham, NC).
Dr. Irwin is triple boarded by the American Board of Internal Medicine with subspecialties in Cardiovascular Diseases and Clinical Cardiac Electrophysiology.
While Dr. Irwin performs a full range of interventional procedures to treat various cardiac issues, he is dedicated to using catheter-based approaches to cure atrial fibrillation.
In November 2003, under Dr. Irwin's leadership, St. Joseph 's Hospital became one of three U.S. sites to participate in the Phase I Arctic Circler clinical trial.
In describing this pioneering work, Dr. Irwin explained, "It was wonderful, because for the first time I felt this was a clinically viable tool for ablation of atrial fibrillation. To me, that was the most exciting thing — I saw a light at the end of the tunnel for people who are struggling with atrial fibrillation ablation".
In December 2010, the FDA approved the Arctic Front® Cardiac CryoAblation Catheter System which is currently being used at St. Joseph's Hospital.
In addition to speaking at national and international conferences about electrophysiology, cardiac pacing and advances in the treatment of atrial fibrillation, Dr. Irwin has authored numerous publications.
Dr. Irwin sits on scientific advisory boards and is a paid consultant for multiple industry leaders focused on developing curative therapies for atrial fibrillation.
Dr. Irwin is also involved in two important studies. Please click the following links for more information: