Ye Olde Holiday Safety Hints
The holiday season is here. But face it, it's been here since October. It's time to get out all the decorations, light the candles, and open the recipe books. Despite all the excitement and anticipation of being with family and friends, there are still safety precautions you should take to keep the holidays joyful.
Decorating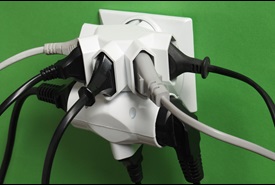 You can never have too many decorations during the holidays. However, be mindful of the safety and security of yourself and your family and friends.
Trees: If you celebrate with a tree, make sure it's properly anchored in a stand and keep it hydrated. Dry trees can be a fire hazard. If you have small children and/or pets, place the tree in an area where they have limited access.
Lights and electrical decorations: Test each strand of lights and all electrical decorations to make sure they're functioning properly. Don't overload outlets. Plug only one high-wattage appliance into each outlet at a time.
Ladders: Whether you're putting up decorations or getting them down from the attic, make sure you have someone at the bottom of the ladder. Also, be mindful of where you anchor your ladder and how much weight the ladder can take.
Food and Cooking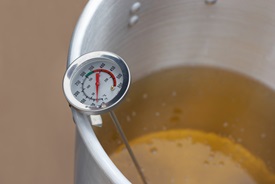 Taking extra care with your food preparation could help you and your guests avoid food poisoning. Additionally, precautions when cooking can help you avoid burns from your stove, oven or fryer.
Frying: Who doesn't love a big fried turkey? Make sure your fryer is set up on flat ground at least 10 feet from the house. Make sure your meat is dry to prevent oil from splattering, and handle the lid with oven mitts to avoid burns.
Food prep: Make sure all your meat is cooked thoroughly. For foods that require refrigeration, leave them at room temperature for no more than two hours. Wash your hands frequently and make sure all fruits and vegetables are cleaned before cooking.
Oven and stove: Always remain in the kitchen when something is cooking. Keep liquids on back burners and turn pot handles toward the back of the stove.
Fireplaces and Candles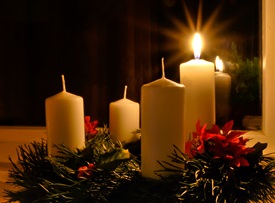 While the occasion is rare in Florida, a roaring fire always feels festive during this time of year, and a sweet-smelling candle on your table can help set the mood for the season.
Fireplaces: Check and clean your chimney and fireplace before using. Make sure to keep a screen in front of the fireplace so children can't gain access to the flames. Avoid burning things like wrapping paper or tree branches.
Candles: Remember to blow out all candles when you leave a room or go to sleep. Candles should be kept on stable surfaces out of reach of children. Check for flammable items around the candles to avoid fires.
Regardless of how cautious you can be, accidents happen. BayCare is with you 24/7 on our BayCareAnywhere or HealthNav mobile apps, in your neighborhood at BayCare Urgent Care locations and at our state-of-the-art emergency rooms throughout Tampa Bay. We hope you don't need us, but we are here if you do.