What You Can Do When a Loved One Is Depressed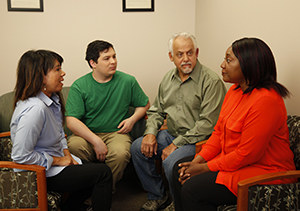 If you know someone you think is depressed, there are ways you can help. Keep in mind that even though depression is a frustrating illness, with help, a depressed person can feel better.
Encourage treatment
Depression is a very treatable illness. Medicine, counseling, and self-help measures can help a depressed person feel better and get back to a normal life. The first step is to visit a doctor or other mental health professional for a thorough evaluation. If you can, be present at the evaluation to offer support and help answer the doctor's questions. If the depressed person is reluctant to seek help, call the doctor yourself and ask for advice.
If the depressed person expresses suicidal thoughts, or if you are concerned that he or she is in immediate danger of hurting him- or herself, seek immediate help. Take the person to the closest emergency room or to a 24-hour crisis clinic. People in a suicidal crisis need immediate psychiatric help and continuous observation. Do not leave the person alone while you seek help.
Be supportive
Here are some other ways you can help:
Be a sympathetic ear. Talking about their feelings often helps depressed people feel better.

Realize that the person is in pain. Try to be understanding.

Don't criticize or be negative. Never blame anyone. Depression is no one's fault.

Encourage the person to join in enjoyable activities. Invite the person out for movies or walks. But realize that he or she may not be able to cope with too many activities at once.

Do not ignore or discount comments about self-harm or suicide. Ask what the person is thinking about doing and if they have the means (for example a gun or medicines) to hurt themselves. Seek immediate help if he or she is at risk.

Be patient. Appreciate progress, however slow.
Take time out
Don't feel guilty about spending time away. Here are some things to keep in mind:
Don't let the depressed person monopolize your time. Spend time alone or with other family members and friends.

Keep a positive attitude. Don't be influenced by the person's negative thinking.

If your advice or help isn't accepted, understand that depression clouds judgment.

Consider joining a support or therapy group. Counseling can often help family and friends better cope with a loved one's depression. Children, in particular, may benefit from counseling.

Don't feel responsible for solving the problem yourself. You can't. Do what you can, and feel good about your efforts.