Urostomy: Staying Healthy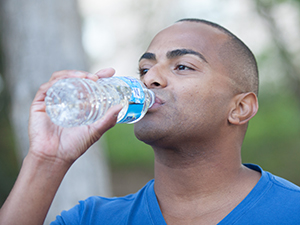 You've just had a urostomy to provide a new way for urine to drain from your body. Follow the tips on this sheet to learn how to stay healthy and help prevent problems. 
A few words on diet
You don't have to follow a special diet after your urostomy. There's also no need to avoid any foods. But be aware that asparagus and some other foods may cause your urine to smell or look different.
Drinking plenty of water
Drinking plenty of water will help prevent urine odor and dehydration. This is when too much fluid is lost from the body. If you become dehydrated, less urine will flow from your stoma. You may feel thirsty and tired. And your skin and mucous membranes may get dry. You may also get stomach cramps. Here are some tips:
Drink at least 8 glasses of water a day, unless your healthcare provider has told you to drink less fluid.

If you do get dehydrated, try to drink plenty of fluids.

Call your healthcare provider if you can't keep fluids down because of nausea or vomiting.
Taking a shower or bath
You can take a shower or bath with or without your pouch. Keep in mind the following:
If you bathe without your pouch, you may want to do this in the morning. This is when your urine output is less. Remember, urine will come out of your stoma while you're in the shower. There is no way to stop the output.

At other times of the day, showering is a better option than bathing. That way, any urine that flows from your stoma will run down the drain.
When you have a checkup
After a urostomy, you may need to visit your healthcare provider every few months at first. After that, your stoma should be checked once a year. Keep in mind the following:
Any time your healthcare provider needs a urine sample, it should be taken from your stoma. This will be done with a special catheter. Do not take a urine sample from your pouch yourself.

When you visit your healthcare provider, bring extra supplies in case you need to change your pouch.

Always let your healthcare provider know right away about any problems with your urinary tract or stoma.
If you have symptoms of a urinary tract infection
Call your healthcare provider if you have any of the following symptoms of a urinary tract infection:
Abdominal pain

Blood in your urine

Cloudy or foul-smelling urine for more than a week

Fever or chills

Kidney pain
Getting support
Adjusting to a urostomy takes time. But your family and friends can help you. Your surgeon, wound, ostomy, and continence (WOC) nurse, and other healthcare providers are there to answer your questions, too. And they can help you find a support group. This is a group of people who share similar concerns or problems. You can also contact the organizations listed below for more information and support: