Treating Hepatitis C: Medications
Hepatitis C is treated using two medications that help your body fight the hepatitis C virus (HCV). Treatment takes time and commitment. In some people, treatment completely rids the body of HCV.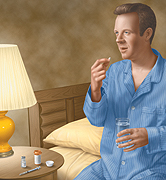 Medications
Interferon is a protein that helps your immune system target HCV. It's injected one or more times a week for up to 12 months. Most people are taught how to do these shots at home. Interferon will not be used by most people by the end of 2014. After that, most people will be treated with sofosbuvir, with or without ribavirin and/or simeprevir.

Ribavirin makes it harder for HCV to reproduce inside the body. These pills are often taken along with interferon to make treatment more effective. The pills are taken twice a day.
Side effects
Hepatitis C treatment with interferon can cause side effects. They may include:
Feeling like you have the flu. Symptoms include fever, upset stomach, headache, feeling tired, and not being hungry.

Depression. This is more likely if you have a history of mental illness or depression.

Anemia (having fewer red blood cells than normal). You may feel weak and get bruises more often. Anemia can be life-threatening for patients with heart or blood vessel disease. This can be caused or worsened with ribavirin.

Birth defects. Hepatitis C treatment should not be given during or right before pregnancy.

Other side effects. These include mood swings, rash, thyroid problems, coughing, and shortness of breath.
Follow up
For best results, follow up with your doctor during and after treatment. This may include:
Having blood tests during treatment to see how your body is responding.

Following your doctor's instructions. This may mean changing your dosage based on how well treatment is working.

Having a blood test about 6 months after treatment ends. This checks for HCV in your body. If HCV is found, try not to be discouraged. Treatment may have slowed the progress of liver damage.

Discussing whether you should have liver cancer surveillance.