Traveling with Oxygen
It's okay to travel with oxygen. You just need to plan ahead. Call your health care provider to get copies of your oxygen prescription and any other paperwork you'll need.  For example, you may carry a letter of medical necessity from your health care provider. The letter states that you must use oxygen. Depending on where you're going and how you're getting there, you may need to arrange for oxygen to be delivered from a medical supply company at your destination. Before you travel, call the carrier (airline, bus, or train) to find out the requirements for traveling with oxygen. Give yourself plenty of time to make needed arrangements.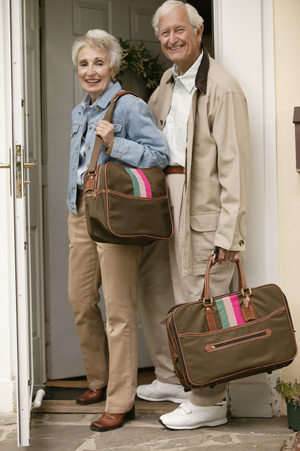 By car
Keep the windows open a crack so air can circulate. If you're using liquid oxygen, place the unit upright on the floor or on the seat beside you. If possible, secure it with a seat belt. Put extra oxygen units behind the seat. (Don't put them in the trunk—it's too hot.) DO NOT SMOKE or let anyone else smoke in the car.
By bus or train
Call the carrier in advance and tell them you're traveling with oxygen. You can likely take your own oxygen on board. You may need to show a copy of your prescription first.
By plane
Most airlines will allow you to travel with and use oxygen while flying. Be sure to check with the airline carrier well ahead of your trip.  And, make sure that your oxygen concentrator is approved by the Federal Aviation Administration (FAA).
By ship
You can probably bring your own oxygen on board the cruise ship. Call to make arrangements. The cruise line will likely need a letter from your provider, a brief medical history, and a copy of your oxygen prescription.