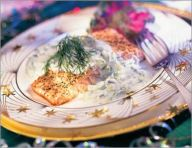 Simple Salmon with Dill Sauce
Ingredients:
1 salmon fillet (approximately 2 pounds)

2 tablespoons low-sodium soy sauce

Coarse black pepper
Directions
Preheat oven to 450 degrees. Rinse salmon fillet and place skin-side down on a flat baking pan. Pour soy sauce over salmon and sprinkle with pepper. Roast salmon using the 10-minute rule--approximately 10 minutes per inch of thickness at the thickest point. If you want to brown the top, brush lightly with olive oil and sear the salmon before roasting, or run briefly under broiler.
Serve salmon hot or cold with dill sauce made by combining 1/2 cup low-fat sour cream, 1/2 cup finely chopped cucumber that has been lightly salted and drained, and 1 teaspoon chopped fresh dill (or more to taste).
Serves 6
Each serving contains approximately 288 calories, 5 g carbohydrates, 31 g protein, 17 g fat, 292 mg sodium, and 0 g fiber.