Refractive Surgery: Laser Thermal Keratoplasty (LTK)
LTK (laser thermal keratoplasty) is a technique for reshaping corneal tissue to help you see better without glasses or corrective lenses. This procedure uses a holmium laser to gently heat certain areas of the cornea. It shrinks the outer portion of the cornea, making the central cornea steeper.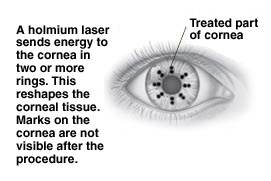 What to Expect During the Procedure
Before treatment, you may be given medication to help you relax.

Eyedrops numb your eyes. A device is used to keep your eyes open.

Laser treatment lasts a few seconds for each eye.

Your vision should start to improve right away. It may take 3–6 months for your vision to become stable.
Pros of LTK
Very safe procedure with few complications

No touch procedure (no cutting or removal of corneal tissue)

No scarring in the central cornea

Low risk of dry eyes

Immediate vision improvement
Cons of LTK
Vision improvement may wear off over time

May take several months for vision to become stable

Risk of undercorrection or overcorrection

Risk of loss of best corrected vision