Preventing Falls: In the Hospital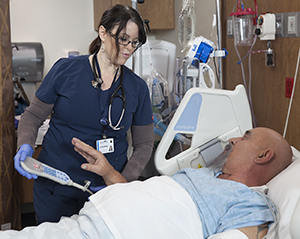 At some point, you may need care in a hospital or other facility. People may ask how well you can move around. Answer this question honestly. If you have a high risk of falling, the staff will take extra steps to help keep you safe. Remember, always ask for help when you need it. Here are some tips to keep you safe in the hospital.
Keep things within reach
Keep the things you use often within easy reach, like tissues, water, remote control, light cord, and call bell.

With the nurse present, practice using the call button before you really need it. Keep it within reach. And don't be afraid to use it when you need to!

Know how to turn the light on and off from your bed. Also, know how to use the bed control.
Get help to move around
Don't get up on your own, even to use the bathroom. Call someone to help.

Sit up slowly and with help.

Wear non-skid, well-fitting footwear when walking.

Don't try to move IV poles or other equipment on your own.

Use your walking aid as instructed by the staff. Be sure to use handrails in bathrooms or in hallways.

The staff may use a gait belt to keep you safe as you move around. This fits snugly around your waist. It allows another person to support you as you walk together.
A note to family and friends
When someone is ill or in the hospital, falling is more likely. You can help your loved one reduce the risk:
Keep personal items in the same place. Stick with a routine.

Learn about the guidelines the staff has in place to prevent falls. Follow them.

Get guidance on using safety equipment and moving your loved one.

When directing your loved one, keep it simple. Go one step at a time.

Notify staff about any mental or physical changes you notice in your loved one.