Preventing Falls in the Home
An adult or child can fall for many reasons. If you are an older adult, you may fall because your reaction time slows down. Your muscles and joints may get stiff, weak, or less flexible because of illness, medicines, or a physical condition. These things can also make a child more likely to fall or be injured in a fall.
Other health problems that make falls more likely include:
Arthritis

Dizziness or lightheadedness when you get out of bed (orthostatic hypotension)

History of a stroke

Dizziness

Anemia

Certain medicines taken for mental illness

Problems with balance or gait

History of falls with or without an injury

Changes in vision (vision impairment)

Changes in thinking skills and memory (cognitive impairment)
Injuries from a fall can include broken bones, dislocated joints, and cuts. When these injuries are serious enough, they can make it impossible for you or a child who is injured in a fall to live on his or her own.
Prevention tips
To help prevent falls and fall-related injuries, follow the tips below. 
Floors
Make floors safer by doing the following: 
Put nonskid pads under area rugs.

Remove throw rugs.

Replace worn floor coverings.

Tack carpets firmly to each step on carpeted stairs. Put nonskid strips on the edges of uncarpeted stairs.

Keep floors and stairs free of clutter and cords.

Arrange furniture so there are clear pathways.

Clean up any spills right away.

Wear shoes that fit.
Bathrooms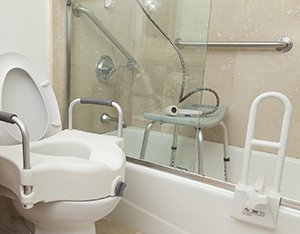 Make bathrooms safer by doing the following: 
Install grab bars in the tub or shower.

Apply nonskid strips or put a nonskid rubber mat in the tub or shower.

Sit on a bath chair to bathe.

Use bathmats with nonskid backing.
Lighting and the environment
Improve lighting in your home by doing the following: 
Keep a flashlight in each room. Or put a lamp next to the bed within easy reach.

Put nightlights in the bedrooms, hallways, kitchen, and bathrooms.

Make sure all stairways have good lighting.

Take your time when going up and down stairs.

Put handrails on both sides of stairs and in walkways for more support. To prevent injury to your wrist or arm, don't use handrails to pull yourself up.

Install grab bars to pull yourself up.

Move or rearrange items that you use often. This will make them easier to find or reach.

Look at your home to find any safety hazards. Especially look at doorways, walkways, and the driveway. Remove or repair any safety problems that you find.