Managing Chronic Pain: Therapies for Mind and Body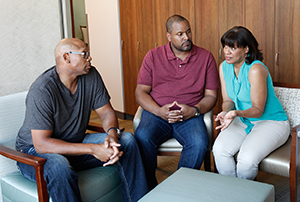 Both the brain and the body are involved in the pain response. The brain reads and interprets the pain signals from the body. This means that your mind has some control over how pain signals are processed. Mind-body therapies may help change how your brain reads pain signals. Talk to your healthcare provider about trying any of the therapies listed below.
Learned therapies
Yoga is a mind and body practice that combines physical postures, breathing techniques, and meditation or relaxation. It can help you relax your body and mind and become more flexible. Tai Chi is a gentle form of exercise with movements that help gain strength and flexibility.

Relaxation, visualization, and meditation are methods for relaxing muscles and concentrating on something outside of your body. This can lessen the feeling of pain or help you work through it.

Coping skills are ways of feeling more in control. These use humor, distraction, or positive thinking to put the pain in its place.

Biofeedback is a technique for learning to have more control over your body. This can help you better control your response to pain.

Self-hypnosis is a way to train your mind to change your perception of pain.
Counseling and support groups
Chronic pain support groups can help you feel less isolated. They can also give you tips for coping with pain.

Support groups for an underlying condition can help you learn more about controlling that condition and the pain that it causes.

Individual counseling can help you learn coping skills and methods, like visualization and relaxation. Counseling can also help with mood problems. 
Complementary therapies
Massage helps you relax. It may also help relieve some kinds of muscle and joint pain.

Acupuncture and acupressure are treatments in which small needles or pressure is applied to certain sites on the body. They may stimulate the body's natural pain-control system.

Chiropractic is a treatment based on adjustments made to the spine and joints. It may help with some kinds of back pain.

Certain vitamins or herbs may help with some conditions that cause chronic pain, although there is limited evidence for their effectiveness. But they may interact with your medicines, so check with your healthcare provider or pharmacist before you try them.