Male Reproductive Anatomy
The reproductive system is the part of the body involved in sexual function. Below are the main parts of the male reproductive anatomy.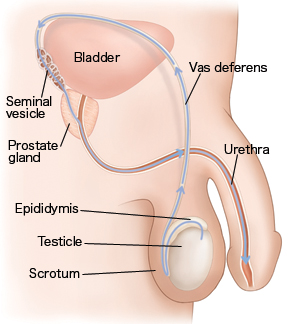 The urethra transports urine and semen. When you have an orgasm, semen is ejaculated out of the urethra.
The testes are glands that produce sperm (reproductive cells) and hormones.
The epididymis is a coiled tube that holds sperm while they mature.
The vas deferens carry sperm from the epididymis to the penis.
After sexual arousal, sperm move away from the epididymis through the vas deferens. Along the way, the sperm mix with fluids produced by the seminal vesicles and prostate gland to form semen. The semen helps nourish sperm and carry them along.