Topic Index
Preparing for Surgery
Overview of Plastic Surgery
Reconstructive Plastic Surgery
Cosmetic Plastic Surgery
Glossary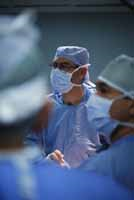 Plastic surgery is the surgical specialty that reshapes or remolds facial and body tissue. It can be done to reconstruct tissue that has been damaged by disease, a defect, or disorder. Or it can be done to repair or reshape structures to make them look better.
Reconstructive plastic surgery is often done to restore or improve function – to a hand, for instance. This surgery is also done to give a patient a more normal appearance.
Cosmetic plastic surgery is done to repair or reshape otherwise normal structures of the body. This type of surgery is done to improve a patient's appearance and self-esteem.