For Parents: Helmet Safety Checklist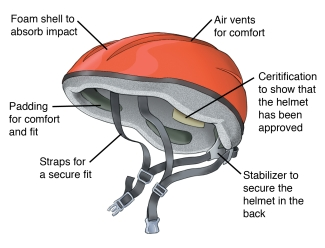 The right helmet and other safety equipment can protect the head when biking, rollerskating, or skateboarding. They only protect if worn correctly. Read the instructions for each piece of equipment with your child. The helmet needs to be made specifically for the activity. For example, a bicycle helmet should not be used for protection when riding horses or playing ice hockey.
Before you buy the helmet, check the label to make certain it meets safety standards for the sport. If your child suffers a fall, and the helmet receives a serious impact, it should not be used again. The helmet needs to be returned to the manufacturer for a safety inspection, or destroyed and replaced.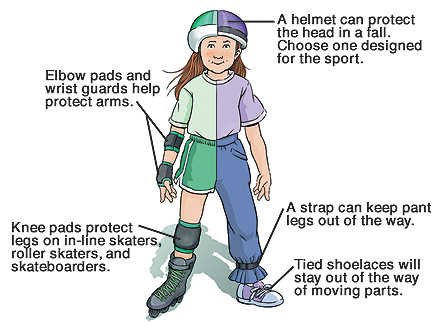 Does it fit?
| | |
| --- | --- |
| With the helmet level, tighten the strap until one finger fits under it. | The helmet should not move forward or back. |
Can you check off all of the following?
? I am a good role model: I always wear a helmet made for the sport when it's needed.
? My child always wears a sport-specific helmet when needed, even if it's just in front of the house.
? My child's helmet fits securely, with the straps tight under the chin.
? I check my child's helmet often to make sure it's in good shape and fits well.