For Caregivers: Future Planning for People with Dementia
The time will come when your loved one can no longer make sound decisions. So it's best to plan now for the future. Talk with your loved one about legal and financial matters. You should also discuss the types of care he or she wants. Settling these issues now can help reassure both of you.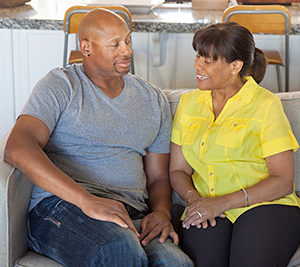 Discuss legal and financial issues
Legal and financial planning is always a good idea. But it's even more vital when a loved one has dementia. How will finances be handled? Who will pay bills? Talking about these matters can be both emotional and complex. So you may wish to seek advice from professionals. These include financial planners, insurance agents, estate-planning attorneys, and social workers.
Durable power of attorney
This document transfers financial and legal power from your loved one to you or to some other person who can make decisions in your loved one's best interest.
Advance directives and living wills
These documents spell out the kinds of medical treatment your loved one wants — or doesn't want — in the future. Keep them with your loved one's medical records.
Long-term care expenses
Medicare, Medicaid, and private insurers all limit the types of care they will cover. Talk with a social worker about how long-term care expenses can be handled.
Joint accounts
Talk with your loved one about becoming a cosigner on his or her financial accounts. This helps make sure bills are paid and allows you to keep track of spending.
Prepare for role changes
As your loved one's needs change, so will your role as caregiver. At first, you may only need to help with minor tasks. Later, your loved one may require constant supervision. Planning for these changes now can make it easier to cope. Start by talking with family and friends. What tasks can they help with? Who will care for your loved one if you become ill? You should also learn about options for professional care. That way, it's easier to move to the next step when the current situation stops working.
Consider caregiving options
Talk with a social worker, doctor, or local support agency about options for care. These may include one or more of the following:
Adult daycare provides supervised care during the day.

Home health aides can be hired part-time, or as live-in caregivers.

Assisted living facilities can provide a home and support for people who need moderate amounts of help.

Nursing homes provide constant care.