Exercise: Adding Intensity
You have been exercising for 30 minutes most days of the week. Now you can move on to the next stage: increasing the intensity. This means doing your activity in one or more of these ways:
Longer. Exercise for 30 minutes or more without a break.

Faster. Hike, run, or skate fast enough to raise your heart rate moderately—as if you had walked fast to catch a bus.

More often. Do your activity 4 to 6 times a week instead of 1 to 3 times.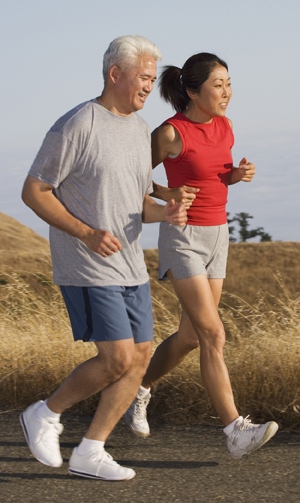 Not just gym class
Be creative. You can reach your health and fitness goals in many ways. Try some of these activities:
Team sports, like basketball or soccer

Social or recreational activities, like hiking or dancing

Individual exercise, like cycling, swimming, or skating

Group fitness classes, like aerobic classes or weight training
Safety first
Whatever activity you choose, think about safety:
Wear the right safety gear and shoes for your activity.

Drink plenty of water during and after workouts.

Wear light-colored clothing if you're out when it's dark.

Make time to warm up before you exercise and cool down after.

Carry ID (identification) with you if you're out alone. And be sure someone knows where you're going.

If you're on foot, travel against traffic (except on blind corners). If you're on a bike, go with traffic. Obey the rules of the road.
Tips for sticking with it
Find a workout partner or sports club. If you know someone is expecting you, you'll be less likely to skip your workout.

Pack a workout bag with everything you need. Then it's ready when you are.

Choose a few different activities so you'll stay interested. Make it fun!
What will help you to stick with it?
1.

2.

3.