Diabetes: Tracking Your Fitness Progress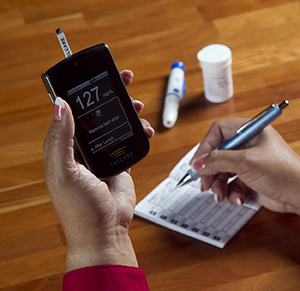 Tracking your fitness progress can help you improve your long-term health. Seeing how far you've come may motivate you to achieve more. Your doctor can also use a record of any progress to help plan your treatment.
Recording blood sugar levels
Your healthcare provider may have shown you how to check your blood sugar. Now that you're more active, you may need to check it more often. Keep a blood sugar log. That way, you can see how your efforts are paying off. You may also include a column for blood sugar readings in a fitness log (see Keeping a Fitness Log below). Bring any log books with you on healthcare provider visits. Your healthcare provider can use these records to help decide whether to adjust your medications.
Setting a fitness goal
A fitness goal gives you something to reach for. Set a goal you can achieve. It does no good if your goal is beyond your ability. And choose a goal that focuses on action. For instance, your first goal may be to take two 10-minute walks a day for one week. After you reach your first goal, try making the next one more challenging. Invite a friend to exercise with you so you can encourage each other to strive toward your goals. 
Keeping a fitness log
Include the information that matters most to you in your fitness log. This may be how you felt before, during, or after exercising. And don't forget to record your blood sugar reading. As time goes on, compare your first entry with more recent entries. You may see a rise in your fitness level and a drop in your blood sugar.
Your fitness reward
Your chances of reaching a goal increase if you plan a reward. Write down a nonfood reward that matters to you. For instance, you might reward yourself with a night at the movies, a new warm-up suit, or some relaxing music.