Creative, Healthy Cooking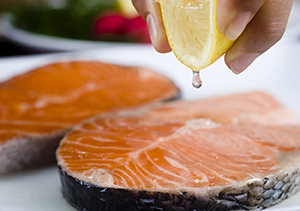 You don't have to go to cooking school to be a creative cook. Try the tips below for creative, healthy, delicious meals.
Challenge yourself
Get fruity. Stewing apples with just a little bit of sugar and cinnamon can make an excellent side dish for almost any meal.

Get stocked. Freeze soup and stock to use later.

Get fresh. Make it a goal to taste at least one new fruit or vegetable a month.

Get ethnic. Look for recipes from other countries and cultures.

Get soaked. Try a low-sodium marinade of lemon juice with herbs and spices

Get rubbing. Rub herbs and spices into meats, poultry, and fish before cooking.

Get zesty. Create a sauce or a marinade with a citrus accent.

Get tangy. Just the right amount of lemon juice or vinegar adds zip in place of salt.

Get the corkscrew. Try adding a quarter cup of wine to the liquid or sauce of your next stew or casserole.
Tips
Experiment using wine in your recipes. The wine you use does not have to be expensive. If you don't drink wine, use small individual bottles of real wine rather than cooking wines and sherries which contain added salt. When you cook with wine, the majority of the alcohol evaporates and leaves behind a delightful aroma and flavor.

The zest from oranges, lemons, and limes can be used to add flavor to soups, salads, sauces, marinades, and rubs. Grate or peel off only the colored part of the peel without the white pith.

Try an herb vinegar on cooked greens or in bean soup. It also enhances the flavor of fish and can add just the right amount of zip to party dips.