Growing to Serve You Better
BayCare is one of the top large health systems in the nation, delivering clinical excellence from extraordinary team members who treat patients like they would their own family members. BayCare also wants its care to be convenient, close to home and state of the art, so in 2022, the health system worked on projects to update or expand existing facilities or provide new BayCare outposts in areas not previously served. Read on to learn how BayCare is growing to better serve you and the communities of West Central Florida.

A New Hospital Rising
While BayCare has a hospital on the western edge of Pasco County, Morton Plant North Bay Hospital, there has been no BayCare hospital to serve the residents of eastern Pasco. There is now. As 2022 drew to a close, BayCare Hospital Wesley Chapel was preparing to open to patients in that rapidly growing section. The $246 million hospital—BayCare's 16th hospital—is located at 4501 Bruce B. Downs Boulevard in Wesley Chapel. It has 86 beds, all private rooms, enhanced patient monitoring and integrated technology throughout.
The new BayCare Hospital Wesley Chapel brings BayCare's exceptional, compassionate care to eastern Pasco County and beyond.
A Replacement Hospital for Plant City
South Florida Baptist Hospital in Plant City was founded in 1953 and was one of the original hospitals to join BayCare Health System when it was formed in 1997. The hospital has served the community well, but it was out of space for expansion and needed to be updated. In October 2021, BayCare broke ground for a replacement South Florida Baptist Hospital about four miles from the existing facility. The $326 million hospital with 146 rooms is expected to open by late 2023.

Celebrating New Additions
In Spring 2022, BayCare's St. Anthony's Hospital in St. Petersburg celebrated its 90th anniversary with the opening of a modern, 90-room patient tower that added almost 150,000 square feet to the campus. The $152 million tower project is one part of a multiyear expansion and upgrade of the hospital, which is now licensed for 448 beds. A second phase of the tower project was unveiled in October: three new operating suites with glass walls featuring large, embedded images of St. Petersburg landmarks. Designed by a German company, the glass walls are nearly indestructible, easier to clean and less likely to harbor germs that could lead to infection.
When South Florida Baptist Hospital in Plant City couldn't expand in its current location, BayCare chose to build a replacement hospital nearby. Interiors were well underway by the end of 2022.
A Wider Footprint
BayCare's primary service area has always been the four counties of Hillsborough, Pasco, Pinellas and Polk. However, BayCare announced that it was considering an expansion of services into northern Manatee County, where there's a deficit of not-for-profit health care providers. As 2022 ended, BayCare Medical Group was preparing to serve patients in its first Manatee County primary care office, located in Parrish.

A New Model for Behavioral Health Care
BayCare announced in February that a former medical/surgical unit inside St. Joseph's Hospital-North in Lutz would be reconstructed to provide a new style of care for patients who have both acute medical problems and acute behavioral health diagnoses. With improvements in the medications used to treat mental health problems, many patients are living longer—to the point where they begin to experience the acute medical problems of advancing age. This new 24-bed unit, expected to open in spring 2023, will provide care for both issues in one in-house unit.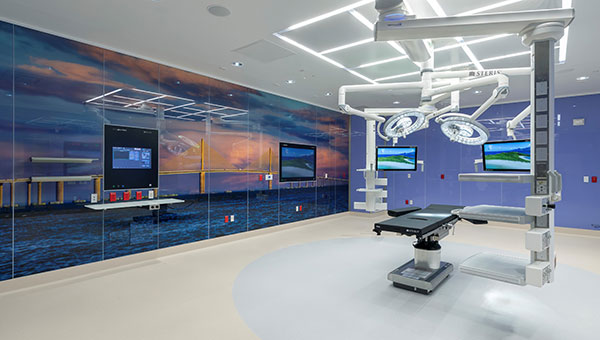 New construction at St. Anthony's Hospital in St. Petersburg included three operating rooms with glass walls that featured large photographs of local scenes, including this one of Tampa Bay and the Sunshine Skyway Bridge.
Combining Functions for Better Efficiency
BayCare opened a facility in March 2022 in the Trinity community of Pasco County that combines adult and child primary care and urgent care in one location. The hybrid model is a new approach for BayCare that's intended to improve registration workflow and reduce wait times. Called BayCare Trinity East, the new office is located at 11178 State Road 54 in New Port Richey.

BayCare Trinity East combines multiple health care services in one location in New Port Richey.