What to Take to the Hospital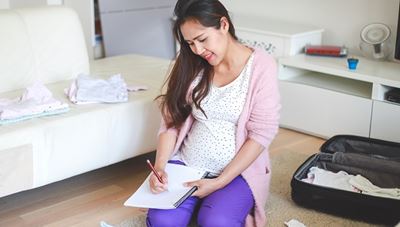 If you're in the final months of your pregnancy, it's a good idea to start planning what you need to bring with you to the hospital. Here are a few ideas about what you should pack.
The National Institutes of Health's MedlinePlus.gov provided the following list of recommended items to pack for you, your labor coach and your baby. You should gather the items about a month prior to your due date.
Mom
Bra and nursing bra
Breast pads
Several pairs of underwear and socks
Hair ties
Loose-fitting and comfortable clothes to wear home
Labor Coach
Watch or stopwatch to time contractions
Contact list to announce your baby's arrival to family and friends
The "focal point" object for focusing your attention during labor
Massage oils or massage rollers to relieve the new mom's back pain
Prayer beads or photos
Portable music players
Baby
Receiving blanket
Going-home outfit (warm clothing, including a baby hat, if it's cold outside)
Baby socks
Baby car seat, which is required by law. Learn more about car seat safety.
Check with the hospital about the items the staff will need from you. Those items include your health plan insurance car, your pregnancy medical file, admissions paperwork, birth preferences and the contact information for your pediatrician.