Kidney Disease: Understanding Fluids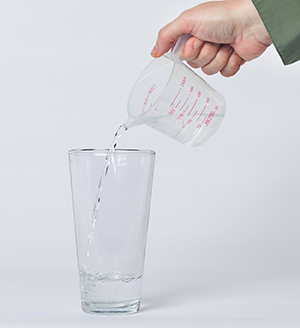 Healthy kidneys balance the amount of fluid that enters and leaves the body. If your kidneys can't maintain this fluid balance, you may need to limit your fluid intake. Always consult with your healthcare provider and ask how many ounces of fluid you can have every 24 hours. The information below can be of help.
What counts as a fluid?
Fluids are foods that are liquid at room temperature. All of the foods listed below count toward your fluid intake:
Water for drinking and taking medicines

Ice cubes and ice chips

Coffee and tea

Sodas

Milk, cream, and liquid creamer

Juices, both fruit and vegetable

Soups

Popsicles

Ice cream, sherbets, and sorbets

Gelatin
Figuring fluid amounts
Fluids can be measured in different ways. The chart below can help you convert among units of measure. For ease of use, some numbers have been rounded off.
| | | | |
| --- | --- | --- | --- |
| 1 liter | 4.2 cups | 34 ounces | 1,000 ml |
| 1 quart | 4 cups | 32 ounces | 1,000 ml |
| 1 pint | 2 cups | 16 ounces | 500 ml |
| 1/2 pint | 1 cup | 8 ounces | 250 ml |
|   | 1/2 cup | 4 ounces | 120 ml |
|   | 1/3 cup | 3 ounces | 80 ml |
|   | 1/4 cup | 2 ounces | 60 ml |
| 2 tbsp | 1/8 cup | 1 ounce | 30 ml |