Mitral Valve Regurgitation
Learn about mitral valve regurgitation:
What Is Mitral Valve Regurgitation?
Mitral valve regurgitation, also referred to as mitral valve insufficiency or mitral prolapse, is a degenerative structural heart condition where the mitral heart valve does not function properly. The mitral valve becomes incompetent, allowing blood to flow in the wrong direction within the heart. Severe mitral valve regurgitation leads to a decrease in blood flow to the rest of the body, requiring the heart to pump harder. Left untreated, severe mitral valve regurgitation may lead to congestive heart failure and eventually death. The onset of severe regurgitation may be progressive or sudden depending on the underlying cause. Structural mitral regurgitation results from rheumatic valve disease, ruptured valve apparatus, infectious endocarditis, and redundant valve leaflets as in mitral valve prolapse.
Symptoms of mitral regurgitation include:
Shortness of breath that occurs with increased activity and when lying down
Rapid breathing
Fatigue or exhaustion
Coughing
Lightheadedness
Swollen feet or ankles
Excessive urination
Heart palpitations or rapid heartbeat, including atrial fibrillation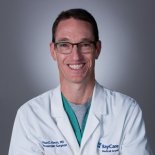 Mitral Valve Regurgitation
July 26, 2023
Dr. Joshua Rovin discusses causes, symptoms and diagnosis of mitral valve regurgitation as well as the preventative measures at treatment options available.
Treatment Options for Mitral Valve Regurgitation
Treatment for mitral valve regurgitation depends on the severity of the disease. Medications can be used to reduce symptoms, but cannot correct the underlying structural problem with the mitral valve. Structural mitral regurgitation itself can only be treated in two ways:
Open heart surgery to: 


Repair the mitral valve 
Replace the mitral valve
Both surgical procedures very effective treatments for mitral valve regurgitation.
Minimally invasive catheter-based procedure:


Transcatheter Mitral Valve Repair (TMVr)
TMVr is available in select circumstances for high risk surgical patients.
Transcatheter Mitral Valve Repair (TMVr)
Transcatheter mitral valve repair (TMVr) is a minimally invasive treatment option for people with degenerative mitral valve regurgitation who are unable to undergo open-heart surgery due to severe medical problems.
Unlike traditional surgery, this procedure does not require opening the chest or temporarily stopping the heart. Instead, a catheter is passed through the femoral vein in the leg and is used to implant a clip, called a MitraClip, in the center of the mitral heart valve. Correction of mitral regurgitation restores the proper flow of blood through the heart.
Facilities Offering TMVr
As the first health system in the Tampa Bay area to offer Transcatheter Mitral Valve Repair (TMVr), BayCare has two facilities that perform this revolutionary procedure. Both facilities also perform surgical mitral valve therapy. Learn more about our facilities' heart valve and TMVr programs:
Center for Advanced Valve and Structural Heart Morton Plant Hospital located in Clearwater, Florida
Phone: 855-44-VALVE (855-448-2583)
Structural Heart and Valve Program at Winter Haven Hospital located in Winter Haven, FL 
Phone: (863) 292-4004
Take Charge of Your Heart Health
BayCare offers a variety of resources to help people throughout the Tampa Bay area learn about heart conditions and procedures. Learn more about our Heart and Vascular services. For a referral to one of our cardiac specialists, please call (855) 233-0888 or find a doctor near you.