Structural heart and valve disease affects the valves that regulate blood flow within the heart. Patients with heart valve disease may experience a variety of symptoms:
shortness of breath
chest pain
rapid or the feeling of an irregular heartbeat
dizziness or lightheadedness
fainting
swollen ankles or feet
fatigue
rapid weight gain
Some structural heart and valve conditions are present from birth (congenital), and others are the result of heart diseases or illnesses that occur throughout a person's lifetime. Many of these abnormalities ultimately result in congestive heart failure (CHF).
Listen as Dr. J Patel talks more about heart valve disease.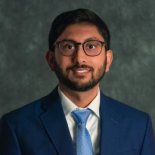 Heart Valve Disease
April 28, 2021
Interventional cardiologist Dr. Jayendrakumar Patel discusses heart valve disease including signs, symptoms and when to see a cardiologist.Learn more about BayCare's heart valve centers
You may be thinking about delaying your heart care due to COVID-19. Rest assured, as a heart care and health care leader, we've put enhanced safety measures in place to help protect you throughout all our facilities.
Our compassionate multidisciplinary Structural Heart team has the experience and expertise needed to treat these complex valve conditions. Each patient referred to our Structural Heart and Valve programs as a potential candidate, is thoroughly evaluated by our multidisciplinary team. The team consists of heart specialists including cardiovascular surgeons, cardiologists, cardiac anesthesiologists and other cardiac care specialists to treat patients with a variety of heart valve disorders:
Also called aortic valve stenosis , it's a common problem where the aortic valve of the heart can become thickened, meaning that it's too narrow and doesn't open very well. This causes blood flow from the heart into the rest of the body to be obstructed, forcing the heart to work overtime to pump sufficient blood.

Pulmonary valve stenosis is a heart condition affecting the pulmonary heart valve, which controls the flow of blood out of the heart to the lungs. In this condition, the pulmonary valve is thickened or doesn't open fully, usually as a result of a congenital deformity that develops before birth.

Aortic or Mitral Valve Regurgitation

Aortic or mitral valve regurgitation occurs when a heart valve doesn't close tightly, allowing blood to leak or flow backwards (or in reverse) of the proper direction.

Tricuspid valve disease refers to several conditions that affect the tricuspid heart valve located between the two right chambers of the heart, the right atrium (upper chamber) and the right ventricle. Tricuspid regurgitation occurs when the valve doesn't close tightly and blood can flow backwards through the valve. Tricuspid stenosis can occur when the valve doesn't open well limiting the flow of blood through it. Tricuspid atresia is a congenital condition where a solid sheet of tissue blocks the flow of blow through the valve.
Our teams at these three facilities across West Central Florida work together to share expertise, knowledge and experience, giving every patient access to the highest quality heart care. Collaboration across our teams results in evidence-based approaches that produce superior clinical outcomes for our patients. This approach ensures patient-centered care that includes a comprehensive evaluation of the patient's individual case, and results in a thorough review by a team of specialists to build a collaborative treatment plan.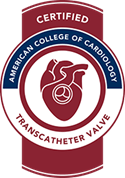 BayCare's Morton Plant Hospital and St. Joseph's Hospital Structural Heart and Valve programs hold the Transcatheter Valve Certification from American College of Cardiology (ACC). This certification uses an external review process that pairs with established national clinical databases to monitor patient safety and real-world outcomes for transcatheter valve therapies. Hospitals that achieve Transcatheter Valve Certification use best practices for implementing evidence-based medicine to support patient-centered decision-making and track key performance metrics to better identify opportunities for improvement.
BayCare's structural heart and valve programs are leaders in the field providing innovative heart care to patients throughout West Central Florida. Our programs offer advanced, state-of-the-art treatment options including:
Transcatheter Aortic Valve Replacement (TAVR)

TAVR minimally invasive procedure enables the placement of a new balloon-expandable aortic heart valve into the body through the leg or chest by a catheter-based delivery system. As a balloon inflates, it expands the new valve into a secure place, replacing a patient's diseased native aortic valve. BayCare's Morton Plant Hospital and St. Joseph's Hospital Structural Heart and Valve programs hold the American College of Cardiology (ACC) Transcatheter Valve Certification. The certification recognizes a program's expertise and commitment to excellence in treating patients receiving transcatheter valve repair and replacement procedures.

Surgical Aortic Valve Repair and Replacement

The aortic valve that does not work properly can be replaced or repaired during surgery, which can be done through traditional open-heart surgery or minimally invasive approaches.
Through the traditional surgical approach, surgeons physically repair or replace the valve using either a mechanical valve or another prosthetic valve.

Thoracic Endovascular Aortic Repair (TEVAR)

TEVAR is a minimally invasive procedure used to treat aortic aneurysms where a stent is placed inside the blood vessel to prevent the pooling of blood against the weakened area of the aorta, the largest blood vessel that carries blood away from the heart toward other parts of the body.

Endovascular abdominal aortic aneurysm repair (EVAR)

EVAR is a minimally invasive procedure used to treat aortic aneurysms in the abdominal area of this blood vessel by placing stent into the area with the aneurysm so that blood can flow through the vessel without pushing or pooling around weakened area.

Surgical Treatment for Thoracic and Abdominal Aortic Disease Including Aneurysms and Dissections

Aortic aneurysms can occur when the aorta is weak and starts to bulge, which can then cause the bulge to burst. Aortic dissection happens when there is a tear in the wall of the aorta. Both conditions can cause life-threatening bleeding.
The type of surgery recommended all depends on the patient's condition and location of the aneurysm. Most patients have open-heart surgery, but your doctor may determine you are a candidate for less invasive repair such as endovascular aneurysm repair (EVAR).

Transcatheter Mitral Valve Repair (TEER or transcatheter edge to edge repair known as MitraClip Therapy)

A minimally invasive treatment option for people with degenerative mitral valve regurgitation where a catheter is used to implant a clip, called a MitraClip, in the center of the mitral heart valve to restore the proper flow of blood through the heart.

Transcatheter Mitral Valve Replacement (TMVR)

Open Surgical and Transcatheter Tricuspid Valve Repair and Replacement

Tricuspid valve repair is generally the first choice to fix the valve, surgeon may do this by this by reshaping that valve and adding a small balloon into the narrowing valve to open it for better blood flow.
Some valves are unable to be repaired and will need to be replaced with either a mechanical valve or a tissue valve made from animal heart tissue. Tricuspid valve repair and replacements may be done through traditional open-heart surgery or a minimally invasive valve-in-valve procedure.