Transcatheter Aortic Valve Replacement (TAVR)
Transcatheter Aortic Valve Replacement (TAVR) is an alternative procedure to open heart surgery for some patients suffering with aortic stenosis (AS), a progressive condition where the aortic valve of the heart hardens and narrows, impacting the heart's ability to move blood from the heart to the brain and body. If left untreated over time, aortic stenosis leads to heart failure and death.
Also called transcatheter aortic valve implantation (TAVI), this minimally invasive procedure enables the placement of a new balloon-expandable aortic heart valve into the body through the leg or chest by a catheter-based delivery system. As a balloon inflates, it expands the new valve into a secure place, replacing a patient's diseased native aortic valve.
BayCare was the first to bring this revolutionary procedure to the Tampa Bay area in 2012.
The Advantages of a TAVR Procedure
For those patients who cannot undergo open heart surgery for aortic valve disease and for whom medical therapies are no longer providing adequate treatment, undergoing a TAVR procedure can carry many benefits for patients with aortic stenosis including:
Minimally invasive approach with no large surgical incisions
Improved blood circulation
Improved quality of life and life expectancy
Reduced hospital admissions for heart failure
Shorter hospital stay
Typically does not require cardiopulmonary bypass or stopping the heart
Though the TAVR procedure carries significant benefits for some patients, it is not suitable for every patient. Our expert teams evaluate each patient individually to determine if TAVR is the most appropriate treatment option.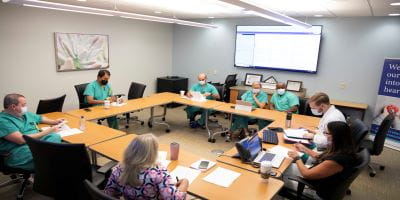 TAVR Treatment: A Multidisciplinary Approach
All BayCare facilities have multidisciplinary teams of experts including cardiovascular and cardiothoracic surgeons, structural cardiologists, cardiac anesthesiologists, and other cardiac care specialists who work together to deliver a multifaceted level of cardiac care to patients with complex valve disorders. This team approach ensures patient-centered care that includes a comprehensive review of the patient's individual case, resulting in a thorough assessment by a team of specialists in order to formulate a collaborative treatment plan.
BayCare's Morton Plant Hospital and St. Joseph's Hospital Structural Heart and Valve programs hold the Transcatheter Valve Certification from American College of Cardiology (ACC). This certification uses an external review process that pairs with established national clinical databases to monitor patient safety and real-world outcomes for transcatheter valve therapies. Hospitals that achieve Transcatheter Valve Certification use best practices for implementing evidence-based medicine to support patient-centered decision-making and track key performance metrics to better identify opportunities for improvement.

Each individual patient is reviewed by a multidisciplinary team of physicians who will recommend if TAVR is the best treatment option for that patient based on his or her medical condition and other medical factors.
To see if you are a candidate for TAVR or to request more information on this procedure, please contact one of the BayCare Heart Valve Centers: