BayCare Brings Rapid COVID-19 PCR Testing at Select Urgent Care Centers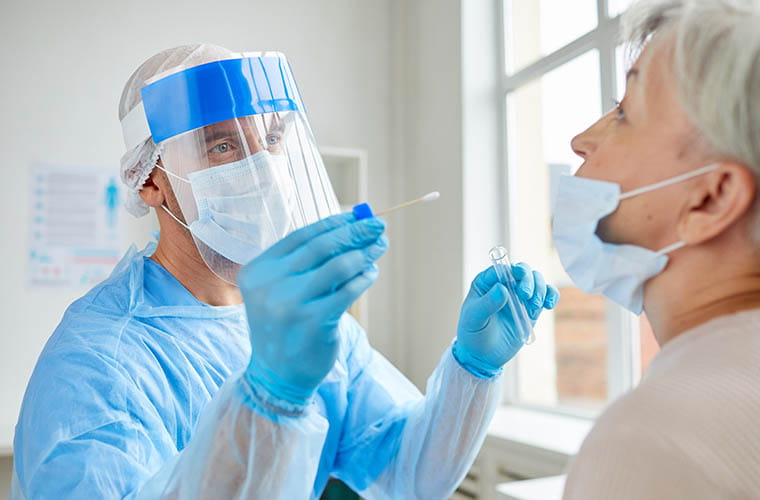 CLEARWATER, Fla. (November 13, 2020) – Starting Monday, Nov. 16, thirteen of BayCare's Urgent Care centers will offer an effective and reliable rapid test that can detect both COVID-19 and the flu. The test is available to asymptomatic people wishing to confirm they are negative for COVID-19 before traveling or visiting loved ones during the holiday season.
This service, which is an extension of Tampa International Airport's testing site operated by BayCare, will offer a real-time reverse transcription polymerase chain reaction (RT-PCR) that detects both flu and COVID-19 with the same reliability as a lab-based test. Patients can receive test results in 30 minutes.
"We're looking forward to offering this service for patients and give them an accurate diagnosis in real-time," said Jim Cote, senior vice president for ambulatory services. "This service will give people a peace of mind as they plan their holiday travels and celebrations with their families."
Due to limited supply, the RT-PCR will be available on a reservation basis. Reservations can be made using Save Your Spot. The test will not be billed to insurance but will be available as a self-pay service at a cost of $150.
The RT-PCR, recently authorized for emergency use by the U.S. Food and Drug Administration (FDA), is an effective and reliable form of testing for respiratory viral infections. Health care providers use a medical swab to collect specimen from the nose, which can be more comfortable for the patients than longer swabs used for traditional PCR tests.
"We believe testing plays a crucial role in containing the spread of COVID-19," said Cote. "That's why, we were one of the first health systems in the region to provide testing access early in the pandemic. We hope this additional service will help reduce the spread of the virus as we head into the holiday season and winter months."
BayCare launched drive-thru COVID-19 testing sites in March across the region in addition to testing in its hospital facilities. Since then, BayCare has conducted more than 280,000 COVID-19 tests.
"Patients experiencing symptoms of COVID-19 are encouraged to get tested at our drive-thru testing sites," said Dr. Nathan Keith Waldrep, chief medical officer for BayCare Urgent Care and Occupational Medicine and medical director for BayCare HomeCare and BayCare Telehealth. "Our full network of urgent care clinics is also available for those who wish to be evaluated for flu or COVID-19. If clinically indicated, patients can receive a flu test and a traditional PCR test for COVID-19 that's sent out to BayCare Laboratories for processing."
The following BayCare Urgent Care locations will offer RT-PCR testing:
BayCare Urgent Care (Clearwater)
711 South Belcher Road
Clearwater, FL, 33764

BayCare Urgent Care (New Tampa)
17512 Dona Michelle Drive, Suite 5
Tampa, FL, 33647

BayCare Urgent Care (Riverview)
10125 Big Bend Road
Riverview, FL 33578

BayCare Urgent Care (South Tampa)
1155 South Dale Mabry Hwy, Suite 7
Tampa, FL 33629

BayCare Urgent Care (Winter Haven)
400 1st Street North
Winter Haven, FL 33881

BayCare Urgent Care (St. Petersburg)
2331 4th Street North
St. Petersburg, FL, 33704
BayCare Urgent Care (Carrollwood)
11921 N. Dale Mabry Highway, Suite 7
Tampa, FL, 33618

BayCare Urgent Care (Largo)
13670 Walsingham Road
Largo, FL, 33774
BayCare Urgent Care (New Port Richey)
4821 U.S. Highway 19
New Port Richey, FL 34652

BayCare Urgent Care (Town 'n' Country)
6909 W. Waters Ave.
Tampa, FL 33634

BayCare Urgent Care (Tampa)
3440 W. Dr. MLK Jr. Blvd.
Suite 100
Tampa, FL 33607

BayCare Urgent Care (Tyrone)
1599 66th St. N.
Saint Petersburg, FL 33710


About BayCare Health System
BayCare is a leading not-for-profit health care system that connects individuals and families to a wide range of services at 15 hospitals and hundreds of other convenient locations throughout the Tampa Bay and central Florida regions. Inpatient and outpatient services include acute care, primary care, imaging, laboratory, behavioral health, home care, and wellness. Our mission is to improve the health of all we serve through community-owned, health care services that set the standard for high-quality, compassionate care. For more information, visit www.BayCare.org.