BayCare, TPA to extend COVID-19 testing program for travelers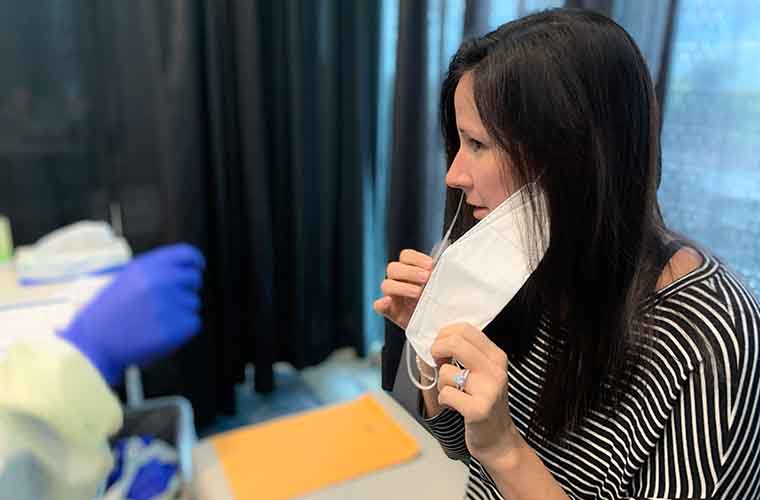 Editor's Note: Starting May 8, the COVID-19 testing site at the Tampa International Airport is no longer available.
B-roll: https://bit.ly/3oyA6nx
Virtual Press Conference with TPA CEO Joe Lopano, 11 a.m. today on Zoom: https://tampaairport.zoom.us/j/98637612616

Tampa International Airport and BayCare Health System today announced the expansion of the airport's COVID-19 passenger testing program through the end of the year after a successful October pilot.

The COVID-19 testing site is located in the airport's Main Terminal, near the entrance to Airside F. When it launched on Oct. 1, TPA became the first airport in the country to offer two types of FDA-approved COVID-19 tests (Polymerase Chain Reaction and rapid antigen) for all departing and arriving passengers.

Program highlights to date:
An average of 130 to 140 passenger tests per day during the pilot
Completed more than 3,000 passenger tests in October
PCR is the most popular test among travelers
Majority of those tested were departing passengers who tested days in advance of travel
"Our travelers are extremely appreciative of this service and we are thrilled to expand it," said Airport CEO Joe Lopano. "We're doing everything we can to make travel safe and to help our passengers feel comfortable when they fly through Tampa International Airport."

Due to the popularity of the testing pilot, BayCare is adding staff to reduce potential wait times.

Testing services will continued to be offered on a walk-in basis, seven days a week. Starting on Nov. 2, the testing site will have new hours of operation: Monday through Friday, from 7:30 a.m. to 1:30 p.m. and from 8 a.m. to noon on Saturday and Sunday.

TPA's COVID-19 testing site will be closed on Nov. 1, Thanksgiving Day and Christmas Day.

New pricing of $150 for the PCR test and $60 for the rapid antigen test will help offset the cost of additional BayCare staff on-site.

Testing is voluntary and is open to all arriving and departing passengers, regardless of airline or destination who can show proof of travel. Passengers departing from Tampa to destinations requiring a negative PCR test, the most accurate and broadly accepted internationally, are advised to take the test three days before departure and can expect results within 48 hours.

"We're pleased to continue working with TPA to provide COVID-19 testing to passengers through the end of the year," said Nishant Anand, MD, executive vice president and chief medical officer at BayCare Health System. "As we head into the holiday season, testing for COVID can help make traveling safer and mitigate the spread of the virus in airports and during flights."

Since launching the pilot, Tampa International Airport has been contacted by numerous airports across the country who are interested in providing COVID-19 testing for passengers.

ABOUT BAYCARE: BayCare is a leading not-for-profit health care system that connects individuals and families to a wide range of services at 15 hospitals and hundreds of other convenient locations throughout the Tampa Bay and central Florida regions. Inpatient and outpatient services include acute care, primary care, imaging, laboratory, behavioral health, home care, and wellness. Our mission is to improve the health of all we serve through community-owned, health care services that set the standard for high-quality, compassionate care. For more information, visit www.BayCare.org.

ABOUT TPA: Tampa International Airport is consistently ranked among the world's most beloved airports, serving 22-million annual passengers with routes to 90 nonstop destinations around the world. In the past five years, the Airport has received top awards on the state, national and international levels, including being ranked second in the country and fifth in the world in customer satisfaction among airports of its size. TPA recently completed the largest construction program in its history with a major Main Terminal renovation, 70 new shops and restaurants, a 1.4-mile automated people mover extending to a new multi-level rental car facility, and numerous new public art installations. TPA is a major economic driver for the Tampa Bay region and is the gateway to the west coast of Florida.