Herniated Disc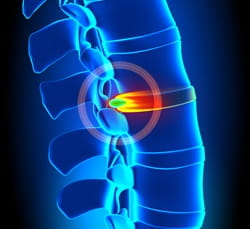 What is a Herniated Disc?
A herniated disc, also called a "bulging disc" or "pinched nerve", occurs when one or more of the jelly-like cushions between the vertebrae, called "discs", start pushing through the disc space in front of the spine into the spinal cord, causing tingling pain, burning, weakness and numbness in the back, foot, leg and arm. The spinal cord, which sits behind the vertebrae and discs, is pressed by these discs and the nerves are affected. This can be caused by trauma, genetics, obesity, pregnancy or heavy lifting. Other spine problems such as sciatica and degenerative disc disease can lead to a herniated disc. A bulging or herniated disc can also cause the vertebrae to rub against each other, which may cause bone spurs to form over time.
Treatment
People who have bulging or herniated discs, and who are not severely symptomatic, do not necessarily need surgery. Conservative treatments such as epidural steroid injections, anti-inflammatory medication, visits to your chiropractor, acupuncture, physical therapy and certain back exercises can help the body heal on its own. Talk to your primary care physician about formulating a treatment plan tailored to your unique needs. If your herniated disc is severe and nonsurgical treatments do not alleviate your symptoms, you may be a candidate for minimally invasive spine surgery
Exercises for a Herniated or Bulging Disc
Exercises for a herniated or bulging disc include:
Contact Us
BayCare offers minimally invasive spine surgery at locations throughout the Tampa Bay area. If you have pain in your neck, back, legs or arms, your doctor can determine if conservative treatments are right for you or if you are a candidate for minimally invasive spine surgery. BayCare proudly serves patients in Tampa, Clearwater, St. Petersburg, Safety Harbor, Dunedin, New Port Richey, Plant City, Winter Haven, Lutz and the surrounding areas.
For more information or a referral to a doctor who performs minimally invasive spine surgery, call (855) 314-8347 or find a doctor near you.