Pregnancy and Back Pain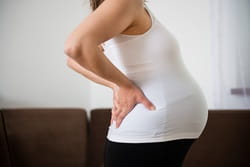 Pregnancy and back pain go hand-in-hand. As your body changes during pregnancy, your back must work in new ways. This can be painful if your back isn't prepared. Back pain can be due to many factors. Physical changes to your body can strain your back and its supporting muscles. Also, hormones (chemicals that carry messages throughout the body) increase during pregnancy. This can affect how the muscles and joints work together.
During pregnancy, changes in your body affect your back and posture (how you position your body). Your body's shape and size change, making your muscles work harder. As the body prepares for childbirth, hormones cause pelvic muscles, ligaments and joints to loosen. This can lead to pain. These changes may also cause you to use poor posture (positions that strain the spine). Over time, poor posture often results in back pain.
Causes of Back Pain During Pregnancy
Weight gain
Muscular imbalances
Fatigued muscles
Back Pain Exercises
Low-impact aerobics
Walking
Bike-riding
Water therapy or swimming
Contact Us
BayCare's many facilities located throughout the Tampa Bay area offer a wide range of treatments for herniated discs, sciatica, spinal stenosis, arthritis and other spine conditions. We proudly serve patients in Tampa, Clearwater, St. Petersburg, Dunedin, Lutz, Winter Haven, Safety Harbor, Plant City and the surrounding areas.
For more information or a physician referral, call (855) 314-8347 or find a doctor near you.