'Valuable Experience' as Teen Volunteer Leads to Career in Health Care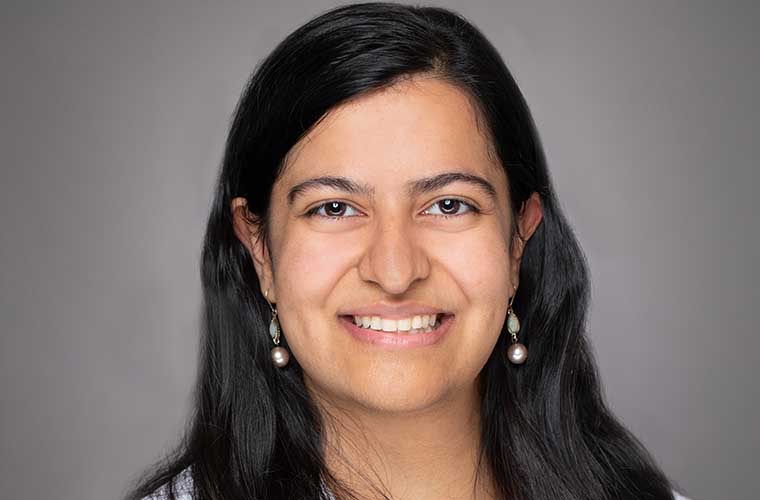 Mausam Mehta, MD, began volunteering in middle school at Mease Countryside Hospital. She is now in her second year in the University of South Florida-Morton Plant Mease Family Medicine Residency Program.
Mausam Mehta, MD, is starting her second year of the University of South Florida-Morton Plant Mease Family Medicine Residency Program. But she's been a part of the BayCare Health System for much longer.

Dr. Mehta began volunteering at Mease Countryside Hospital (MCH) when she was in middle school, and she says it proved to be a valuable experience.

Nearly 500 students, ranging in age from 14 to 17, are on BayCare hospital campuses this summer. Many return each summer, and some continue to volunteer throughout the school year. They perform a variety of tasks, like volunteering at the admitting or emergency department desks; helping customers in the gift and resale shops; discharging patients; helping on nursing units; or assisting with special projects.

Dr. Mehta volunteered once a week, year-round at MCH until she graduated from high school. She was primarily at the lobby desk and in that role guided visitors, delivered medical equipment to floors, went to medical records for records requests, and brought patients downstairs for discharge.

Looking back, she said her experiences as a teen helped fuel her passion for family medicine.

"I had an inkling what I wanted to do but being able to spend good quality time with patients, visitors and staff, being in the same environment, helped me appreciate medicine more,'' said Mehta. "In family medicine, there's a good rapport, a continuity in the doctor-patient relationship. I experienced that as a volunteer.''

Heather Rutkowski, volunteer resources director for the Morton Plant Mease and St. Anthony's hospitals, said that the teen program is a great way for students to determine if a health care career is in their future.

"We love having the teens on campus and seeing them develop and grow over the summer,'' said Rutkowski. "You can see the confidence build in them as they realize they are making a difference in the patient and guest experience. Although we enjoy supporting the efforts of the medical magnet school students in our community. It is also just as rewarding to see students develop an interest in non-clinical roles, too."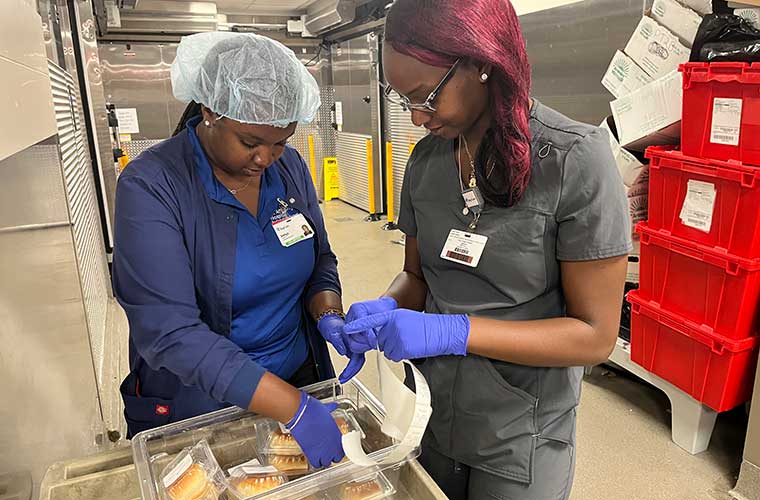 Amiya White, a summer teen volunteer at St. Anthony's Hospital, helps team member Aliyah Williams put together some items for patient trays. Amiya is volunteering in food and nutrition this summer.
For Amiya White, who will be a junior at the Center for Wellness and Medical Professions at The Boca Ciega High School Medical Magnet this fall, volunteering at St. Anthony's is a great way to see the hospital from the inside. And she knows that she wants to follow in the footsteps of her mother who works as a medical office representative for BayCare. "I want to work as a licensed practical nurse or a registered nurse," said White, who is spending her first summer at St. Anthony's helping the food and nutrition team. "It's nice to be here and to help where there is a need."

A shortage of health care workers throughout the United States has led BayCare and its hospitals to proactively work with students who may be interested in choosing a career in health care.

BayCare supports many projects to give teenagers the opportunity to see life inside the hospitals. The first St. Joseph's Hospital Career Camp was held in June and it gave ninth and 10th grade students an opportunity to learn hands-on about the different careers in the hospital. The camp was modeled on the Diane Rauch Camp Nurse Jr. which is held each summer at Mease Dunedin Hospital. Students who will be entering seventh and eighth grades attend the program.

The teens have been a welcome addition to the hospitals. "It's wonderful to have half of the teens return for their second summer this year," said Linda Pondexter-Gidron, St. Anthony's volunteer resources manager. "They have really matured since last summer and have a better perspective about a career path. I love their enthusiasm."

Volunteering benefits the students as well. Students need 100 hours in the community to apply for Bright Futures Scholarships, and those in medical magnet programs need an additional 100 hours. They also earn hours for The National Honor Society.

Although some of the teens have a direct connection to the hospitals – they have a parent or other relative who works within BayCare – many of the students come in through the community to volunteer.

In previous years, the programs at BayCare hospitals in Polk County had been targeted to teens who are related to team members. This year, the programs at Bartow Regional Medical Center (BRMC) and Winter Haven Hospital (WHH) expanded to include students in the community. Kit Threlkel, who handles volunteer services at WHH, said that roughly half of this year's teen volunteers are from the community.

"It's exciting to know how many young people are interested in health care opportunities, and we are happy to be able to provide some experiences to help them," Threlkel said.

The program is already open to the wider community at South Florida Baptist Hospital (SFBH), which has 83 volunteers this year. Eugena Gale, who manages both the SFBH and BRMC programs, has charted the paths of her volunteers for years. Some of them, she noted, now work in the medical field, and some even at SFBH.

"We're so excited to have this class of volunteers," Gale, said. "They're wonderful teens, and I enjoy working with them and helping them hone their professional skills and of course, excited to see what they do next."

While many of the hospital programs already allow for those students to volunteer during the school year, that is just coming to the SFBH program. However, for teens to be a part of the year-round schedule at SFBH, they must complete the summer schedule, said Gale.

In addition to getting needed volunteer hours, the summer volunteer program gives students the opportunity to see how different positions in the hospital work together to provide a positive experience for patients and visitors.

"From the moment our patients and visitors drive onto our campuses, their experience starts. Our teen volunteers are helping at our main lobby desks, the gift shops, admitting – that are not directly connected to patient care,'' Rutkowski said. "But those positions work with our patient care teams to provide a positive patient and visitor experience."

For any student who is considering being a volunteer at one of the hospitals, Dr. Mehta has some words of advice. She encouraged the teens to persevere. "It's okay not to have it all figured out," she said. "But it's good to have a broad idea and really work at it.''

For teens and adults interested in volunteering at any of the 16 BayCare hospitals, visit the BayCare Volunteer page and contact the hospital of your choice.