Labor and Delivery - What to Expect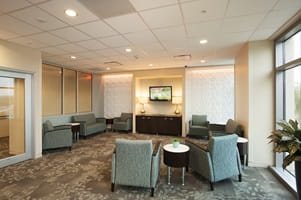 The day you have your baby is one you have been waiting for and planning for at least nine months—if not years. You have probably attended classes and events, and you are well prepared. We know you are excited, and perhaps nervous, so here is what you can expect the day you have your new baby at St. Joseph's Hospital-South:
Day of Delivery
Depending on how you come into the hospital (through the front door or through the Emergency Room) you will be brought to Labor and Delivery. Typically, one of our obstetricians or labor and delivery nurses will check you in one of our assessment rooms.
An assessment involves checking how dilated your cervix is, monitoring the baby and timing your contractions. If our staff determines that you are in active labor, we will move you to one of our spacious, private labor and delivery suites. Relatives and friends can wait comfortably in the family lounge, which features plush seating, a kitchenette and a great view of the newborn nursery. However, we value the security in this unit, so no one can get in and out without a special badge.
Monitoring During Labor and Birth
Each patient receives one-on-one care from our experienced labor and delivery nurses. The most advanced fetal equipment monitors you, the baby and your contractions, and sends the information directly into our Electronic Medical Records. This way, if there is a shift change while you are in labor, your nurses and doctors know everything about your birth process.
We have anesthesiologists on call, 24/7, so if you need an epidural, or other pain management, you will receive it as soon as you ask. All our couches open to beds, so if you labor through the night, your partner can stay with you comfortably.
C-Sections
If you need a C-section, the Labor and Delivery unit has two dedicated operating rooms just adjacent to the unit.
Our operating rooms are equipped with the latest in surgical and monitoring tools, and our obstetricians follow best practices for C-sections, based on the thousands of births that occur yearly at the hospitals of BayCare. As always, patient safety and quality of care are our first priorities.
Our Women's Care Services has a direct link to St. Joseph's Women's Hospital for tertiary care in Neonatal Intensive Care, High Risk and Multiple Birth Obstetrics.
After Birth
After your baby is born, you will have time to bond with your baby and perhaps even try to breastfeed. You will also hear a special lullaby played throughout the hospital to alert everyone that a new life has entered the world!
Your baby will be given a Vitamin K shot and eye ointment—a necessary precaution against infection. You will stay in your labor and delivery room for about one to two hours, and then moved to the Mom and Baby (postpartum) unit, one floor up. Your baby will come with you and receive a bath once you are on the postpartum floor. Learn more about the Mom and Baby Unit at St. Joseph's Hospital-South.