Adult Congenital Heart Program
Tampa Bay Adult Congenital Heart Program
The Tampa Bay Adult Congenital Heart Center at St. Joseph's Hospital is accredited by the
Adult Congenital Heart Association
as a Comprehensive Care Center for adults with congenital heart disease (ACHD). This accreditation through the Adult Congenital Heart Association (ACHA) demonstrates the highest quality of care that our physicians can provide for adults living with congenital heart disease.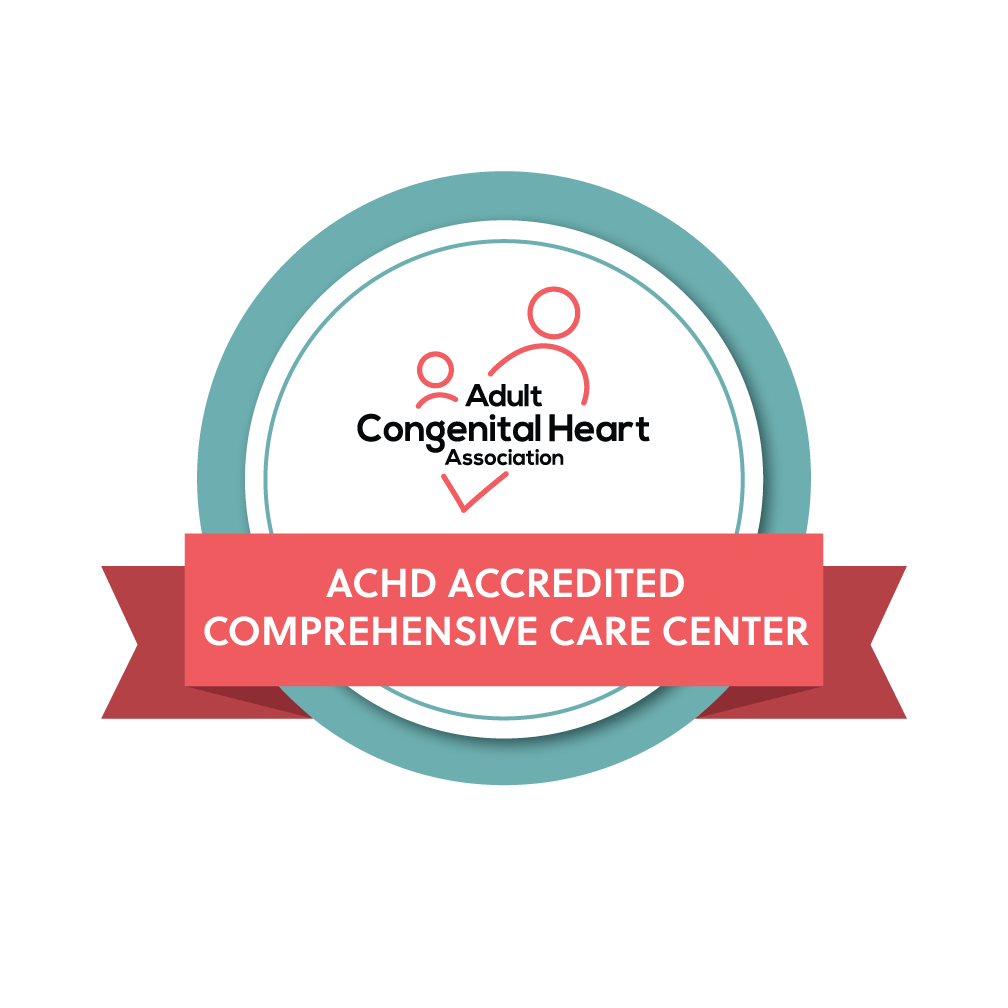 We are the first in the region and second facility in Florida to earn this accreditation. Part of the Heart Institute, this unique program is a collaboration between St. Joseph's Hospital, St. Joseph's Children's Hospital and Pediatric Cardiology Associates. We care for over 2,000 patients with corrected and uncorrected congenital heart disease.
The Importance of Expert Follow-Up Care

In the United States, over one million adults live with congenital heart disease (CHD). While medical advances have allowed children born with congenital heart defects to live longer healthier lives, as adults they have fewer options to receive the kind of highly-specialized care that they received as a child in the pediatric cardiology clinic.

Follow-up care is incredibly important since adults with congenital heart disease are at increased risk for cardiac problems that arise years after correction and increase in frequency over long periods. In addition, non-cardiac medical conditions such as pregnancy or non-cardiac surgical procedures require special management for these patients to minimize any cardiac risk that may arise from their congenital heart disease.
Adult Congenital Heart Disease Specialty and Board Certification

Due to the growing need for qualified experts to treat adults with congenital heart disease, the American Board of Internal Medicine (ABIM) now offers adult congenital heart disease (ACHD) as a board certification for cardiologists. The ACHD subspecialty is open only to American Board of Internal Medicine-certified cardiovascular medicine cardiologists or American Board of Pediatrics-certified pediatric cardiologists who have also completed an accredited two-year ACHD fellowship program. Now with ACHD certified cardiologists, the outlook for children nearing adulthood is much better.
Congenital Heart Defects: The St. Joseph's Team Approach

Our medical team is comprised of board-certified pediatric cardiologists, adult congenital heart disease cardiologists, along with colleagues specializing in congenital heart surgery, advanced cardiac imaging, cardiac electrophysiology, interventional cardiology, advanced heart failure, cardiac intensive care and cardiac anesthesia. Our multidisciplinary team also includes dedicated ACHD advanced practitioners.

Collaboration between pediatric and adult cardiology provides easy transition between children's and adult services for our patients. Pediatric cardiologists may begin to educate patients as young as 12 years old with adult congenital heart disease education so that by 18 years old they can transition to an adult congenital cardiologist. Our pediatric cardiologists recognize the importance of this life-long care and help adolescent patients, along with their parents, transition into our ACHD Clinic.

Our team-approach to patient care, means working closely with surgeons, primary care providers, high-risk obstetricians, dentists, and other health services like social workers to provide the complex, cohesive, quality care our patients need. Our care coordinators are experienced and dedicated to providing support to assure the welfare of our patients and coordinating necessary services for our patients and their families.

Our board-certified ACHD cardiologists are on-call 24/7 for ACHD patients hospitalized not only at St. Joseph's Hospital, but also at every other BayCare hospital.