Pediatric Heart Services in Tampa, Florida
Patel Children's Heart Institute
Extraordinary Heart Care for Kids
Congenital heart defects are the most common type of birth defect but thanks to modern advancements in medicine, children are living longer and growing into healthy adults. The Patel Children's Heart Institute at St. Joseph's Children's Hospital is home to the largest congenital heart disease program in West Central Florida. We treat patients throughout their entire lifetime, starting as early as in the womb and continuing through late adulthood. Our team offers support and guidance through every step of the care journey. This continuum of care ensures that our patients get the expert heart care that they need no matter what stage of life they're in.

Our congenital heart surgery program operates in partnership with UPMC Children's Hospital of Pittsburgh, one of the country's top-ranking pediatric heart service providers. Our team's collective knowledge and expertise, allows us to provide the highest quality heart care to our patients and attain surgical outcomes that regularly exceed the national benchmarks as reported by the Society of Thoracic Surgeons (STS).
Expert Team, Expert Care
Our board-certified team of pediatric heart specialists treat a wide variety of mild to highly complex heart conditions. They provide expert care in a range of subspecialties including fetal and pediatric cardiology, interventional cardiology, cardiac anesthesia, cardiac critical care and congenital heart surgery. Many of our treating physicians are well-recognized within their specialties for their contributions to the treatment of congenital heart disease.

Our team works together to make all important patient care decisions, discussing each surgical patient individually to determine the best personalized plan of care needed before, during and after surgery. Our family-centered care model is further supported by our dedicated team of nurse navigators, advanced practitioners, nurses and other team members.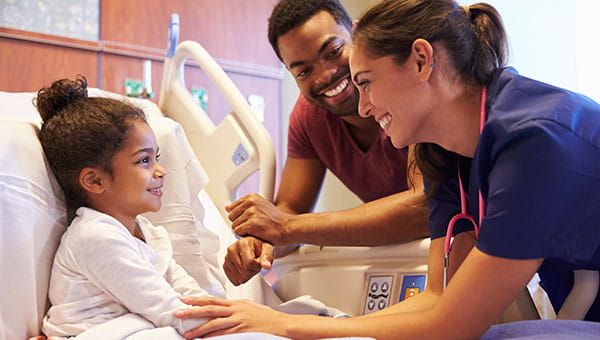 Pediatric & Congenital Heart Nurse Navigators
A Nurse Navigator guides you through the medical journey, acting as a liaison for all parties involved in your child's care. They provide a single point of contact for physicians, patients and families and encourage you to be actively involved in all aspects of diagnosis and treatment, providing education and support as needed.
Conditions We Treat
Our highly specialized team cares for a full spectrum of pediatric heart conditions ranging from simple to complex congenital heart defects. Some of the conditions we treat include: