BayCare Alliant Hospital
Dunedin, FL
Find Us
BayCare Alliant Hospital
601 Main St.
Dunedin, FL 34698
(727) 736-9991
Why Choose Us
Patients and families may feel confused, uncertain and anxious when clinical staff at a hospital talk about discharge to another hospital. When patients have complex medical or respiratory conditions that require an extended hospital stay and they're not medically ready to go to a lower level of care such as a rehabilitation or skilled nursing facility, they may need services provided by a Specialty Acute Care Hospital.

At BayCare Alliant Hospital, we understand the challenges you face in selecting the right specialty hospital for yourself and your loved one. BayCare Alliant provides an interdisciplinary, family-centered approach of focused critical care and comprehensive rehabilitation therapies to support patients in achieving their recovery goals at their own pace and helping them return to their highest level of function.
Access BayCare
Pulmonary and Respiratory
Patients with complex respiratory needs may require services provided by a specialty acute care hospital to recover from an exacerbation and regain optimal respiratory health.
Medically Complex Care
We understand that patients with medically complex conditions often require multiple services to support their recovery goals and help them return to their highest level of function. At BayCare Alliant Hospital, our team of experts collaborate to design personalized treatments plans designed to achieve optimal results.
Rehabilitation Programs
The team at BayCare Alliant Hospital provides rehab services to patients who have complex medical problems with a rehabilitation program that is individualized to meet their needs. The program prepares both patients and family members with a goal for a safe return home.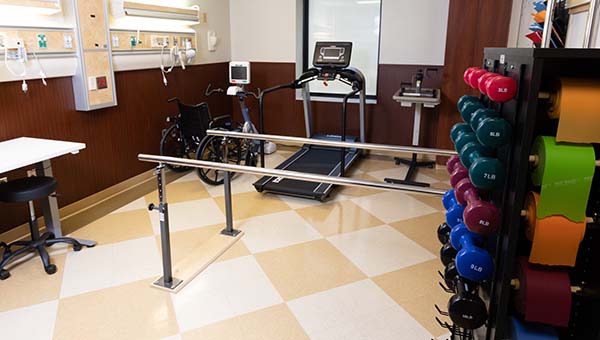 Additional Services at BayCare Alliant Hospital
Led by a highly qualified team of cardiologists, BayCare Alliant's cardiovascular care program treats a wide range of heart and vascular conditions and can provide continuous telemetry, cardiac monitoring and management of continuous and intravenous heart medications. Our team of doctors, nurses, respiratory and rehabilitation therapists, nutritionists, wound care specialists, pharmacists and case management develops a plan of care for each patient and meets weekly to monitor progress and adjust as needed. This focused and strategic care supports patients in meeting their recovery goals at their own pace and helping them return to their highest level of function.

Our cardiac rehabilitation program incorporates exercise to improve heart health and education to reduce risk factors. Geared toward the cardiovascular patient, this program incorporates nutrition counseling and stress management strategies to promote physical, emotional and social well-being.

We treat a variety of heart and vascular conditions, including:

Congestive heart failure (CHF)
Recovery from cardiac surgery
Myocardial infarctions
Presurgical cardiac optimization
Cardiac monitoring while awaiting ICD or pacemaker placement
Cardiac arrhythmias requiring cardiac monitoring
Left ventricular assist device (LVAD) management
Pulmonary arterial hypertension
Pulmonary embolism
Vascular diseases
Dyspnea of cardiac origin
Cardiac medication management

To learn more about heart and vascular services at BayCare Alliant: (727) 734-6791.

BayCare Alliant's palliative care program consists of a comprehensive team of specialists who provide relief from the symptoms and stress experienced by patient's living with serious illness. The primary goal is to improve the quality of life for both the patient and the family.

Palliative services at BayCare Alliant Hospital include assistance with the physical, emotional, and spiritual distress related to chronic illness. This specialized care is available to patients at any stage of serious illness and can be delivered while patients are pursuing curative treatments.

Our multidisciplinary team includes board certified palliative medicine doctors, advanced practice registered nurses, licensed counselors, and board-certified chaplains.

BayCare Alliant Hospital's wound care program offers treatment from doctors, specially trained wound care nurses, and certified wound care nurse practitioners to treat conditions from impaired skin integrity and pressure ulcers to complex wounds requiring surgical debridement.

Our team of skilled clinicians promotes healing by providing a nutritional plan, utilizing early mobilization to improve skin integrity, and, when indicated, administering long-term intravenous antibiotic therapy. BayCare Alliant's Turning and Repositioning Program follows guidelines designed to reduce or relieve pressure on at-risk areas, maintain muscle mass and general tissue integrity, and ensure adequate blood supply.

Patients come to us with a variety of complex wounds including:

Surgical wound infection care
Chronic, non-healing wounds/ulcers
Vacuum-assisted closure (wound VAC)
Cellulitis requiring prolonged antibiotic therapy
Bone infections (osteomyelitis)
Post-amputation wound care
Severe skin infections
Ostomy care
Open mesh wounds
Pressure ulcers
Skin grafts

To learn more about wound care services at BayCare Alliant Hospital: (727) 734-6791.

Complicated infections require close monitoring and can lead to extended hospitalizations. BayCare Alliant Hospital's infectious disease team includes specialty doctors and nurses trained in specialized intravenous antibiotic therapy. Our team is committed to the reduction and elimination of infection, and strict precaution protocols are enforced to ensure the safety and well-being of all our patients

BayCare Alliant treats a variety of infectious disease-related illnesses including:

Bacterial infections (bacteremia, MRSA, sepsis, VRE)
Bone infections (osteomyelitis)
Post-surgical wound infections
Kidney infections (pyelonephritis)
Viral infections (encephalitis, meningitis)
Skin infections (cellulitis)
Endocarditis
Infected pressure ulcers

To learn more about infectious disease treatment at BayCare Alliant Hospital: (727) 734-6791.