Wound Care Services in Plant City, Florida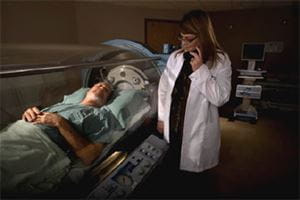 Time Can't Heal Every Wound. That's Our Job.
Every year, 7 to 9 million Americans suffer from chronic wounds caused by diabetes, circulation problems, trauma, immobilization and other similar conditions. At BayCare Wound Care - Plant City, our team of experts in the healing of wounds work together to assess and develop an individualized plan of care to achieve the best healing outcome in the shortest amount of time.
BayCare Wound Care - Plant City is the only one of its kind in Plant City, Florida. Established to meet the growing needs of the community, the Center provides the most comprehensive, latest and state-of-the-art treatment options for the management of problem wounds. We offer services from advanced wound dressings to bio-engineered skin grafting to hyperbaric oxygen therapy, designed to help the body's natural wound healing mechanisms function more efficiently.
Location:
BayCare Wound Care - Plant City
301 N. Alexander St.
Plant City, FL 33563
P: (813) 757-1280
F: (813) 757-8521
Locations, Directions, & Hours
Learn more about scheduling an appointment and physician referrals.
Learn more about wound care services at BayCare.