Diagnosing Middle Ear Problems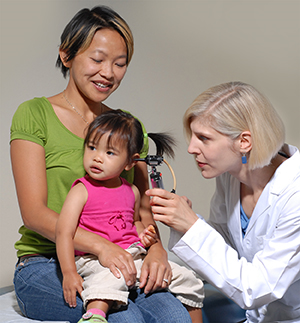 To diagnose a middle ear problem takes several steps. You may be asked questions about your child's health history. Your child's eardrums will be examined. Tests may be done to check the health of the middle ear. Other tests may be done to check for hearing loss. Below is more information about the exam and tests.
Physical exam
A physical exam helps figure out the type of ear problem your child may have. The exam will also help identify respiratory illnesses. These can include bronchitis, pneumonia, or strep throat. They can affect middle ear health and hearing. The exam involves listening to your child's heart and lungs. The doctor will look in your child's ears, nose, and throat.
Viewing the eardrum
A test called pneumatic otoscopy may be done. It takes a few minutes and rarely causes discomfort. A special device (otoscope) is used to look down the ear canal. This lets the healthcare provider see the eardrum and any fluid behind it. The device can also be used to change the air pressure in the ear canal. This lets the healthcare provider see how flexible the eardrum is. Reduced eardrum flexibility is often linked with fluid buildup.
Checking the middle ear
Your child's eardrum and middle ear may be tested. Tympanometry and acoustic reflex testing may be done. Both use a probe to send air and sound through the outer ear. Tympanometry measures the sound passed into the middle ear. Acoustic reflex testing checks the flexibility of the eardrum and how it responds to loud sounds.
Identifying hearing loss
Older children may be given an audiometric test. This measures any possible hearing loss. Test results are used to identify the types of sounds that can and can't be heard. If your child is young, the healthcare provider or a hearing specialist may talk or play with them. The child's response helps identify hearing loss.