Keep Young Athletes in Shape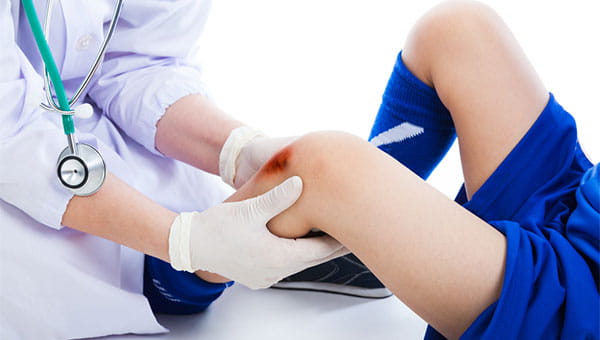 Quick quiz: What is the most common cause of children's musculoskeletal injuries treated in both emergency departments and doctor's office visits?
Answer: Sports injuries
Sprains, strains and injuries to developing tissues and bones can put your youngster on the disabled list or injured reserve. Worse yet, a serious injury can lead to a long-term or permanent impairment that can affect more than playing sports.
So, how can you as a parent keep your young athlete healthy?
Make sure your child is properly conditioned to play the sport. Pre-participation physicals are important and can find potential problems.
Organized teams should have coaches or staff who are trained in first aid, CPR and have an emergency plan.
Make sure your child's schools, community clubs and recreation program have safe and properly maintained playing areas.
Ensure your child gets adequate sleep. Tired athletes are prone to injury.
Overuse injuries occur when an athletic activity is repeated often without proper time to rest and heal muscles, tendons and tissues. Adequate rest and time between activities limits overuse.
Stretching and warm-ups are necessary before every practice and game. These exercises make the body's tissues warm and flexible. Cool-down exercises should be done following activity. Cool-downs loosen muscles that become tight during competition.
Use appropriate gear and protective equipment. Make sure your child knows how to properly use the athletic equipment of the particular sport.
Make sure your child stays hydrated and has water or a sports drink while playing. Athletes should drink frequently.
Use a hat and sunscreen if the sport is outdoors. This will reduce the chance of sunburn and decrease the possibility of developing melanoma or skin cancer later in life.
Make sure rules of the sport are followed. Rules were developed not just to regulate the game but also to prevent injury to participants.
Young athletes should never play through pain or with an injury.
Keep your child on the field or court by following these guidelines. Ask questions to adults supervising and coaching your children's teams to gauge their commitment to keeping your child healthy and injury-free.
BayCare can provide your young athlete with a winning team of medical professionals. For more information about BayCare sports medicine services, call 1-800-BayCare or visit BayCare Sports Medicine.
Is your child on the sideline because of an injury? Are you sitting in the waiting room waiting to get a cast off, get some stitches removed or to see the doctor? Ease that anxiety with BayCare's free mobile game, Unmonsters. See who can catch the wrangle the most monsters before your name is called. Download from the Apple or Google store today!