Give the Gift of Fitness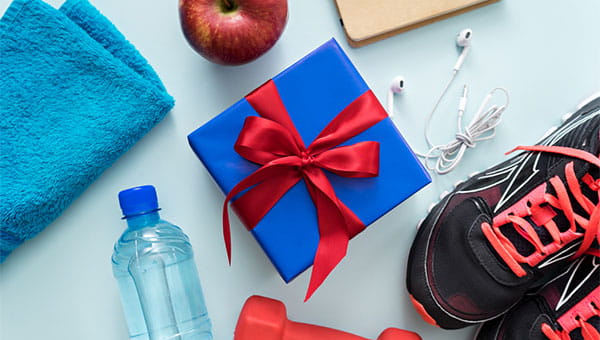 Finding the perfect gift for everyone on your list can be a difficult task. If your holiday shopping list includes fitness enthusiasts, then a sweater or tie just won't do. Giving the gift of fitness is one gift that keeps on giving, especially when it comes to getting a head start on those fitness goals for the new year.
Check out the following gift ideas for anyone on your list, from beginners to enthusiasts:
Yoga mat
Yoga increases flexibility, muscle strength and tone. As an added bonus, you don't need much room or equipment to practice. For the yogis in your life, try giving something practical, like a travel mat they can bring with them on overnight trips or vacation. There are many slim options that can be folded or rolled for easy carrying.
Battle ropes
CrossFit has taken off in the fitness arena, making it a popular regime for all body types. Battle ropes are a staple at most CrossFit gyms, as well as other fitness centers. But with the right space, they can provide a great cardio workout anywhere. Using the ropes also strengthens your arms, shoulders, abs and legs. It's recommended to use the ropes with an anchor strap, pole or tree.
Phone mount for a bike
If the fitness buff on your list prefers being outdoors, consider a phone mount case, which allows riders to use GPS or fitness tracking apps during their ride with little risk of their phone falling out. Many cases are built to lessen vibrations and shocks from the road, and some are dust-, dirt- and rain-proof.
Workout bar
Do you know someone who has to fit a workout in between their busy home and work life? Try something like a workout bar that can be installed above the door for a quick fitness session. Workout bars allow to you to do pull-ups or chin-ups in your doorway, and other exercises including push-ups, crunches and triceps dips.
Fitness wearable
Everyone is getting their steps these days. A fitness wearable will help a loved one on your list track their steps, stairs, heart rate, exercise activity and even compete in challenges with other users. They have several brands of wearables that are both functional and fashionable.
Gym membership
Many gyms offer free guest passes or trials for those who are considering joining. Consider gifting these to friends looking to join your gym. BayCare has three local fitness centers that feature group and specialty classes, personal training and nutritional counseling. Find out how to start a free trial. For those friends or family that already have a gym membership, consider purchasing them some personal training sessions.
James Healy, a BayCare Fitness Trainer, says, "Personal Training is a great way to jumpstart or revitalize a workout program. Hiring a professional helps you create and revitalize your goals and potential."
There are several other brands and equipment out there that can meet the needs of your fitness-crazed friends or family members. These are just a few suggestions to help kick start your holiday shopping.