Becoming and staying fit requires building a comprehensive routine that's right for you. Once you have a strong routine, it's easier to get into the gym and work out efficiently. But to get there, safely and effectively, you might need extra guidance and motivation. That's where personal training comes in. Our personal trainers are there to teach you, guide you and build strong routines that can help you become the best version of you.
BayCare Fitness Center Personal Training Programs
One-on-One Personal Training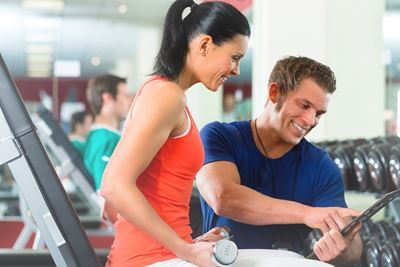 One-on-One PT allows you to receive individualized attention to accomplish your wellness goals, including weight loss, post-rehabilitation training, cardiovascular fitness, general conditioning, resistance training, sport-specific training and conditioning.
Personal Training with a Partner
Don't want to work out alone? Bring a friend or partner with you! Our personal trainers will build a workout for you and your partner that meets both of your needs. Together, you can challenge each other, keep each other motivated, and simply enjoy each other's company.
Free Intro to BayCare Fitness Centers
Receive your FREE intro to a BayCare Fitness Center!
Included in your membership, you receive:
Two coach consults with a personal trainer and virtual Nutrition Fundamentals with a Dietitian
Web-based programming for your specific needs and goals
Yearly screening of blood work including lipid profile
State-of-the-art equipment for all your cardiovascular and strength training needs
Group fitness classes like Zumba, Yoga, HIIT, Cycle, Pilates and more
Access to all BayCare Fitness Center locations