Diagnosing a Memory Disorder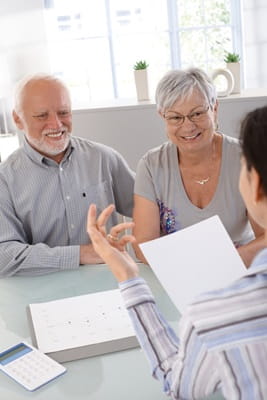 If you or a loved one are concerned about memory loss, speak with a primary care physician or neurologist. To diagnose someone with a memory disorder, a physician must perform a comprehensive assessment, which includes a complete neurological evaluation as well as possibly a neuropsychological assessment.
At BayCare, our memory disorders teams include clinical neuropsychologists as well as licensed clinical social workers. Our clinical neuropsychologists have specialized training and experience with patients who have neurological, medical, developmental and psychiatric conditions. Our caring and experienced social workers will evaluate and act as a navigator to coordinate care. The social worker will be the primary contact for all patients and caregivers.
Neuropsychological Evaluation
A neuropsychological evaluation is a comprehensive assessment of how a person's brain functions in different cognitive areas such as memory, language, attention and processing. This also includes an assessment of mood and other factors such as anxiety, fatigue and stress, which can affect thinking.
The evaluation tests how well the brain is functioning, as opposed to an MRI or a CT, which shows its structure. The evaluation is comprised of a series of standardized tests and is individually customized. There is no preparation required for this evaluation; however, it is important to bring glasses and/or hearing aids to the appointment if these are normally used in daily life.
After you have finished the evaluation, you will review the evaluation results and recommendations with one of our specially trained neuropsychologists.
Benefits of Neuropsychological Evaluation
Because the evaluation is customized, you will learn your cognitive strengths and weaknesses.
Your doctor will receive a copy of your results and recommendations to help you track your progress.
A treatment plan, as recommended by a neuropsychologist, can give you the tools you need to maximize your thinking ability.
It's affordable. Most insurance companies will cover the cost of your evaluation.
Repeat testing can help track cognitive changes over time.
Family and Caregivers Role
Throughout this process, the patient's family and caregivers play a crucial role in supporting the patient. A social worker may meet with the family during the testing process to help determine what systems are in place for the patient and additional resources they may need. The neuropsychologist may also interview family and caregivers for more information and to offer support.
The expertly trained staff at BayCare's memory disorders centers are here to assist you and your loved ones throughout this process. Our centers offer a comprehensive suite of services from neurological to neuropsychological evaluation to education and community resources.
For more information or a physician referral, call (888) 906-8935.
Madonna Ptak Center for Alzheimer's and
Memory Loss at Morton Plant Mease
430 Morton Plant Street, Suite 401
Clearwater, FL 33756
(727) 298-6025


Memory Disorders Center at St. Anthony's Hospital
Professional Office Building
1201 Fifth Ave. N., Suite 309
St. Petersburg, FL 33705
(727) 825-1595
Additional Resources