It is not uncommon to forget where you put your keys or someone's name now and then. However, for those people with a memory disorder, forgetfulness occurs frequently and affects their work and ability to function on a daily basis.
If you suspect you or someone you know has a memory disorder, it is important to get the support and medical attention needed as soon as possible. BayCare offers advanced diagnostic and treatment options as well as support services and resources to help both patients and their families or caregivers.
What is a Memory Disorder?
These disorders cause lapses in memories that can affect both the short and long-term memory ability. They're caused by neurological damage that impacts the ability to retain, recall and store memories and can be progressive in nature (i.e. Alzheimer's disease) or more spontaneous if they result from an injury (i.e. stroke).
If you or someone you know has a memory disorder and you want to learn more, listen to our podcast series on memory disorders where our doctors discuss different types of memory disorders, symptoms, tips for caregivers and more.

Types of Memory Disorders
There are many disorders or conditions that can affect our memory. Dementia is the umbrella name referring to a group of symptoms that includes memory loss (cognitive impairment) as well as problems with judgment, language, orientation and the performing of daily functions (functional impairment). Typically, dementia is caused by disease or death of brain cells.
Mild Cognitive Impairment (MCI) may be an early memory disorder problem. With MCI, memory issues are not as significant as with Alzheimer's or other forms of dementia. While individuals with MCI may stay stable for many years, it is possible that over time, greater decline may be seen.
Some of the most common types of dementia include:
Alzheimer's disease: The most common disease affecting memory, Alzheimer's affects an estimated 5.2 million Americans. It is also the sixth leading cause of death in the United States. BayCare's St. Anthony's and Morton Plant Hospitals are participating in the Atlas of Retinal Imaging in Alzheimer's Study (ARIAS). Learn more about ARIAS or call Catrina Montgomery at (727) 298-6077.
Vascular Dementia: Typically, the onset of vascular dementia is more sudden such as after a stroke or damage to blood vessels in the brain. It occurs when the brain has insufficient blood flow and is deprived of oxygen.
Dementia with Lewy bodies (DLB): A progressive buildup of protein deposits, referred to as Lewy bodies, on nerve cells in the brain. The buildup affects motor function, reasoning and thinking.
Frontotemporal dementia: As its name indicates, frontotemporal dementia is caused by nerve cell damage to a person's frontal and temporal brain lobes. The frontal lobe, the area of the brain directly behind the forehead, is responsible for personality, behavior and voluntary movement. The temporal lobe, the area behind the temples/ears, is responsible for speech and language.
Younger/Early-onset dementia: It is estimated that up to 5 percent of Americans living with Alzheimer's disease have younger/early-onset. Typically, these individuals are in their 50s or even 40s. The symptoms are similar to those of other memory disorders; however, it is usually difficult to diagnose because the symptoms may be attributed to other causes due to the person's age.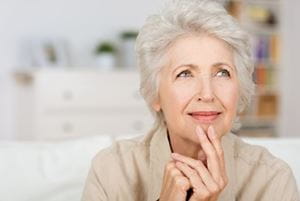 Symptoms
There are wide ranges of symptoms that indicate the possibility of a memory disorder. Some are subtle, such as misplacing an item, while others are more serious and apparent, such as getting lost on your own street. Here are some warning signs that you or someone you know may have a memory disorder:
Forgetting recently learned information (one of the earliest signs)
Memory loss affecting ability to perform job skills
Inability to remember how to perform everyday tasks
Disorientation or confusion even in familiar settings
Misplacing items or putting items in unusual places (a hairbrush in the oven)
Loss of speech or language difficulty—forgetting names of objects or simple words or substituting unusual words
Impaired judgment
Difficulty with abstract thinking
Mood or behavior changes
For everyone, but especially individuals living with a memory disorder, it is important to have key health information always close at hand in case of an emergency. BayCare is offering free In Case of Emergency Magnetic Health Files. To request your free file, complete the form on this page.
Causes
Many factors or conditions can affect memory including:
Medication side effects
Kidney/liver disorders
Stroke/blood clots in the brain
Stress
Anxiety and/or depression
Vitamin deficiency
Treatment
At BayCare, we treat a wide range of memory disorders, with our patients receiving an array of services designed to minimize the long-term impact of the disorder. Our team of highly trained professionals from several disciplines works together to develop an individualized program to support the physical and psychological needs of each patient.
We are proud to serve patients with memory disorders in Tampa, Clearwater, St. Petersburg, Dunedin, Riverview, Safety Harbor, Winter Haven, New Port Richey, and elsewhere in the Tampa Bay area.
Madonna Ptak Center for Alzheimer's and
Memory Loss at Morton Plant Mease
430 Morton Plant Street, Suite 401
Clearwater, FL 33756
(727) 298-6025


Memory Disorders Center at St. Anthony's Hospital
Professional Office Building
1201 Fifth Ave. N., Suite 309
St. Petersburg, FL 33705
(727) 825-1595
For more information or a physician referral, call (888) 906-8935.
Additional Resources
For additional information and resources on Alzheimer's disease and dementia, please visit the Alzheimer's Association and view our upcoming Alzheimer's support groups through BayCare.