Private Duty Care in Your Home
Available exclusively in Pinellas county.
We're Here to Help
Insurers and government funding such as Medicare, may only provide for intermittent home care. Often patients need and want more. As an all-inclusive provider of home care services, we proudly offer private duty care to meet all your needs. We provide a full range of household and health care-related services, allowing you and your loved ones to feel comfortable and secure.
Private Duty Care Services in Pinellas County
Services are individually tailored to meet the needs and requests of the patient, caregiver or family, and include (but aren't limited to):
Nurse Care Coordination (overseen by an RN):
Referrals to other appropriate professionals
Home delivery coordination of medical equipment and supplies
Medication management
Supplemental care for patients in a hospital, skilled nursing facility, rehab center or assisted living facility
Ongoing support and resources
Personal Assistance:
Bathing, grooming and continence care
Medication reminders
Assistance with toileting, feeding, transfers and dressing
Respite care or short-term breaks for caregivers
Assistance with daily activities and hobbies
Companionship, Homemaking and Support for Everyday Living:
No job is too small. We specialize in solving problems that arise on a day-to-day basis.
Transportation
Companionship, conversation and cognitive stimulation
Light housekeeping and laundry
Meal planning and preparation
Assistance with phone calls, correspondence and mail
Home safety checks
Home maintenance coordination
Recreational outings and visits with friends
Personal shopping
Skilled nursing services are available upon request.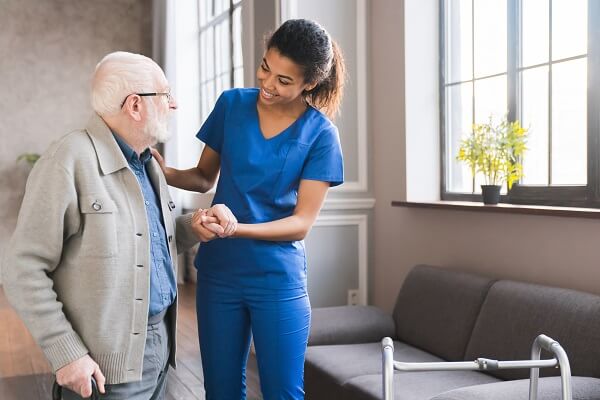 For more information:
Call (727) 394-6713


The Joint Commission's Gold Seal of Approval™

BayCare HomeCare has proudly earned The Joint Commission's Gold Seal of Approval™. This prestigious recognition affirms BayCare HomeCare's commitment to, and reputation for, providing outstanding patient care.
License Number 299991594
Specialized Programs
Welcome Home Program
When a patient needs assistance and support after leaving a hospital or after a surgical procedure, BayCare HomeCare private duty care provides personal care to help individuals feel settled and comfortable when they return home.
Meets patients in their hospital room
Transportation home with stops for prescriptions or groceries
Preparation of patient's first meal and assistance with meal planning
Light housekeeping and laundry
Phone call updates to family or friends
Identification of additional home care needs
Dementia and Alzheimer's Care Program
If someone you love is suffering from dementia or Alzheimer's disease, BayCare HomeCare offers a solution that allows your loved one to remain in their home longer. Our caregivers are specially trained in understanding and meeting the unique needs of loved ones with Alzheimer's disease and dementia. We provide a comprehensive assessment and evaluation to create a program to manage symptoms, provide education to family/caregivers and improve safety in the home.
You can have peace of mind knowing that all BayCare HomeCare team members have undergone a detailed screening process to ensure that their backgrounds and skill levels are of the utmost quality. BayCare HomeCare is accredited by The Joint Commission and has been awarded prestigious HomeCare Elite status for meeting the highest standards of patient care and business operations.