New Product Virtual Open House
Check out our new products now available. View our virtual open house video for a look at the fashionable bras and breast forms from some of our major vendors.
To make an appointment to visit the A Place for Her store, please fill out the form on the right or call us at 1-866-860-0146.
Your Safety Is Our Top Priority
We have re-opened our facilities. For your safety, and that of our team members, please adhere to the following guidelines:
Masks are required to enter
To maintain social distancing:

We may limit the number of people inside our stores
Appointments are preferred
Walk–ins may be asked to wait in their cars until others have left

Minimal touching of products preferred
We appreciate your understanding and cooperation.
Pre/Post Mastectomy Supplies
BayCare HomeCare is pleased to offer the Florida community, "A Place for Her" featuring a complete line of post mastectomy, lumpectomy, and reconstructive products. Breast forms, brassieres, post-surgical camisoles, wigs, and swimwear from well known manufacturers such as Amoena, Camp, Airway, Classique, Ladies First, Jodee, Anita, Coloplast, Jon Renau, and many more are available in assorted fashionable styles. We'll keep you looking and feeling your best all year long. Our products include:
Breast Prostheses
Mastectomy Brassieres
Recovery (Post Surgical) Camisoles
Breast Partials, Shapers, and Balancers
Swimsuits
Activity Brassieres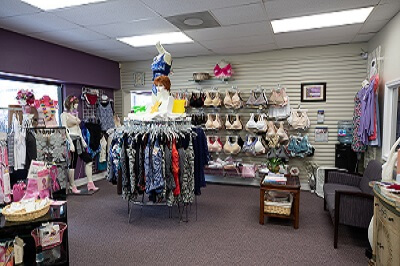 You said you wanted a lighter breast form. We listened. Our designers and engineers have created a new silicone formula that makes the lightest, most natural-looking, full sized breast forms available. Go ahead. Lay aside the weight. It's lightness like you never dreamed possible.
Check with us frequently as there are new wigs and garments coming in all the time. Let us know if there is a particular style or color you are looking for and we will do our best to find it for you.
Custom Breast Prosthesis
For women who have experienced any type of breast surgery, such as a full mastectomy, partial mastectomy, lumpectomy, breast conserving surgery, or reconstruction, we are confident you will find the ABC Custom Breast Prosthesis to be light, soft, and realistic.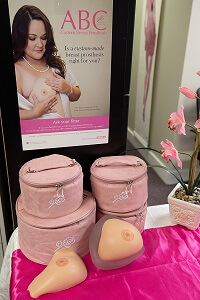 Learn more about ABC Custom Breast Prosthesis by watching this informational video.
Pre-Scanning Consultation
Your fitter will present to you the benefits of the ABC Custom Breast Prosthesis to help you decide if it's right for you.
During your pre-scanning consultation, your fitter will present and review a set of expectations, show you color options, discuss payment options, and detail the scanning process. This will give you an idea of what you can expect from your new prosthesis, and the scanning process.
If you and your fitter decide the ABC Custom Breast Prosthesis is right for you, she will check the fit of your bra and breast form. She will look for specific bra and breast form fit characteristics to ensure your prosthesis will fit like a puzzle piece to your unique chest wall contours, and review color and nipple/areola options with you. Once fit, your fitter may want to keep bra in which she fit you until the date of your personal scan session.

Personal Scan Session
On the day of your personal scan session, wear a separate top and bottom. Your fitter will begin the session by fitting you in the bra in which you were fit during your pre-scanning consultation. She will also review the scan process and provide to you some simple instructions. Next, she will apply a series of removable stickers to your torso and bra. She will then take a series of reference pictures and then scan your chest with a bra on, and off, using a state-of-the-art, iPad-based, 3D scanner. That's it!
Personal fitting
Your fitter will contact you to set up a personal fitting appointment when she receives your custom breast prosthesis.
Your fitter will fit it to your unique contours and also present and review the care instructions and warranty with you.
Your fitter will initially fit your prosthesis in the bra in which you were scanned. Moving forward, feel free to try different bras.
You may find different bra styles complement your new custom breast prosthesis! Your new custom breast prosthesis will be delivered in a beautiful, pink suede case for storage and travel.
Ultra-Light Silicone Breast Form
This specially-formulated, extra light silicone provides the softness and huggability of the standard ABC breast form but it is 50% lighter. It's even 26% lighter than our regular lightweight silicone. This breast form is a wonderful alternative for women who need relief from neck and shoulder pain or who have sensitivities in the areas contacted by a breast form. Available in asymmetric (sizes 2-12) and triangle (sizes 2-16).
Check with us frequently as there are new wigs and garments coming in all the time. Let us know if there is a particular style or color you are looking for and we will do our best to find it for you.
Call your fitter at A Place for Her for an appointment today. Please note: All ABC breast forms and custom breast prosthesis are handcrafted in the USA.
Your Insurance Coverage
Your physician can provide you with a prescription or have it faxed to us at (727) 461-3762. All insurances are required to pay for post mastectomy products. We bill most insurances including but not limited to Medicare, Medicaid, Aetna, Cigna HMO, Blue Cross Blue Shield, and United Healthcare. Please see the Participating Insurance Plans page on this site for the most current list of insurance plans.
Our Retail Locations:
1245 South Fort Harrison Ave.
Clearwater, FL 33756
(across from Morton Plant Hospital)

Hours: Monday-Friday; 9am-5pm
Phone: (727) 447-1146 or toll-free (866) 860-0146
Fax: (727) 461-3762
1708 West Palmetto Drive
Plant City, FL 33563
(South Florida Baptist Hospital Cancer Resource Center)

Hours: Tuesday and Wednesday; 9am-4:30pm
Phone: (813) 756-5055 or toll-free (866) 860-0146