Decoding RSV, Flu, and COVID-19: What Sets Them Apart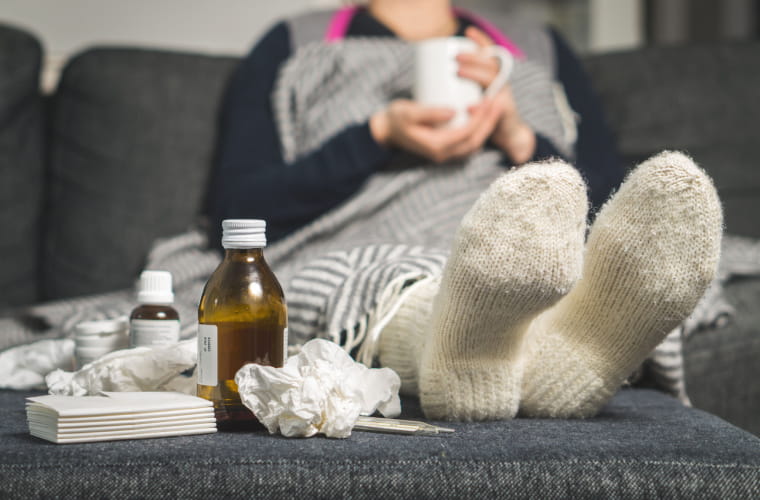 The start of cold and flu season is here, and this season could mirror last year when it comes to respiratory illnesses like RSV, the flu and COVID-19. "It is likely, at some point, that we'll be seeing that 'triple-demic' that we saw last year," warned BayCare's VP/Chief Quality Officer Dr. Laura Arline, MD, FACP, FAAP. So, when you're feeling under the weather, how can you determine if it's RSV, the flu, or COVID-19? It can be tricky since they share some symptoms, but Dr. Arline says there are some clues to set them apart.

RSV (RESPIRATORY SYNCYTIAL VIRUS)
RSV usually affects breathing, especially in infants and older adults. Look for these signs:
Runny or stuffy nose
Mild fever
Wheezing and trouble breathing
RSV Tip: Keep an eye on breathing problems, especially wheezing in children and seniors.
RSV Treatment: While there are no specific antiviral treatments for RSV, getting plenty of rest and staying hydrated can help to relieve symptoms. Over-the-counter medications can help with fever and congestion. If you are experiencing trouble breathing, please seek medical care right away.

INFLUENZA (FLU)
The flu virus can hit you like a ton of bricks and affects people of all ages. Watch out for these symptoms:
Sudden fever

Cough, sore throat, and runny nose
Body aches
Extreme fatigue
Flu Tip: Think fever, chills, and aching muscles.
Flu Treatment: Rest, hydration and over-the-counter medications can help to relieve symptoms. Prescription antiviral medications like Tamiflu can help shorten the length and severity of symptoms if taken early.

COVID-19 (CORONAVIRUS DISEASE 2019)
COVID-19 can vary widely in severity, with some people remaining asymptomatic or experiencing mild symptoms while others face severe illness or death. Common symptoms include:
Fever or chills

Cough and trouble breathing
Loss of taste or smell
Fatigue and muscle aches
Headache
Gastrointestinal symptoms
COVID-19 Tip: Watch for cough, sore throat, and fatigue.
COVID-19 Treatment: Prescription antivirals are available for people at high risk for complications of COVID-19 – they include those with underlying health conditions or the elderly. Antivirals are most effective when taken early for people with mild-moderate COVID-19 symptoms.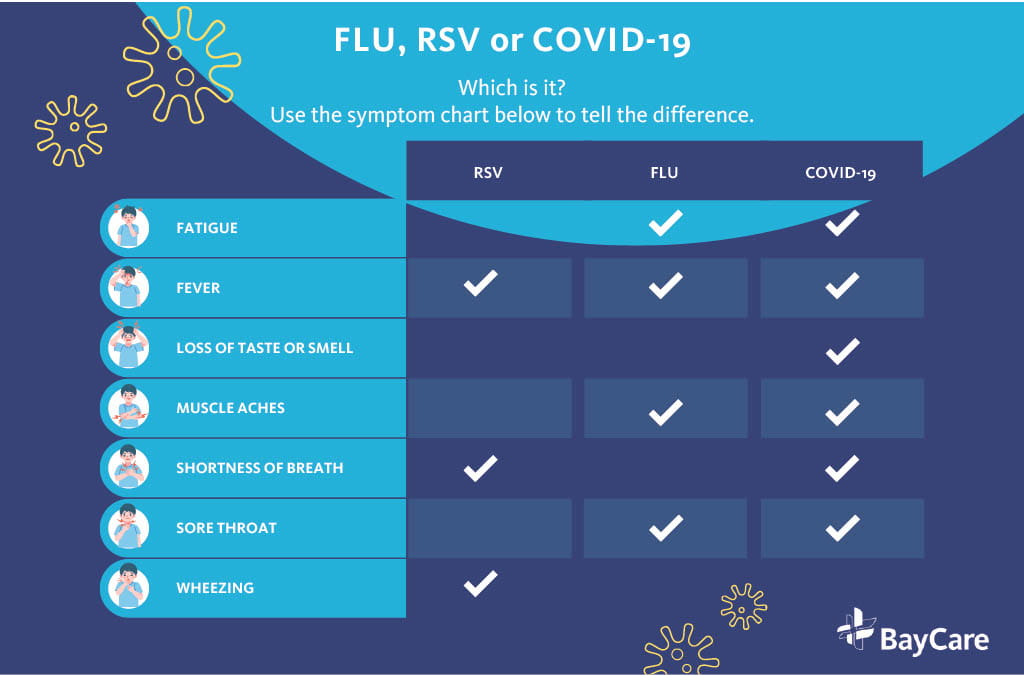 When it comes to RSV, the flu, and COVID-19, it can be challenging to know the difference. If your symptoms are significant or worsening, it is best to see a healthcare provider for evaluation, testing, and proper treatment. "Early detection and proper care can make a significant difference in your recovery and help prevent the spread of these illnesses to others," Dr. Arline adds. Taking steps like keeping up to date with the latest vaccines and maintaining proper hygiene practices can help protect you and your loved ones.
If you're feeling unwell and unsure of the cause, it's essential to seek help from a doctor. BayCare provides convenient access to different care options and services for patients and their families. Patients can conveniently see a doctor using BayCareAnywhere, a 24/7 mobile application offering virtual visits through a smartphone, tablet or computer. You can also see a doctor at Walk-In Care locations at select Publix Pharmacies throughout the Tampa Bay area. BayCare's 20 urgent care locations throughout Pinellas, Hillsborough, Polk and Pasco counties, also offer quick, high quality health care for adults and children ages two and older.

For more information, visit BayCareGetCareNow.org.