St. Joseph's Hospital Cancer Institute Launches State-of-the-Art Breast Radiation Therapy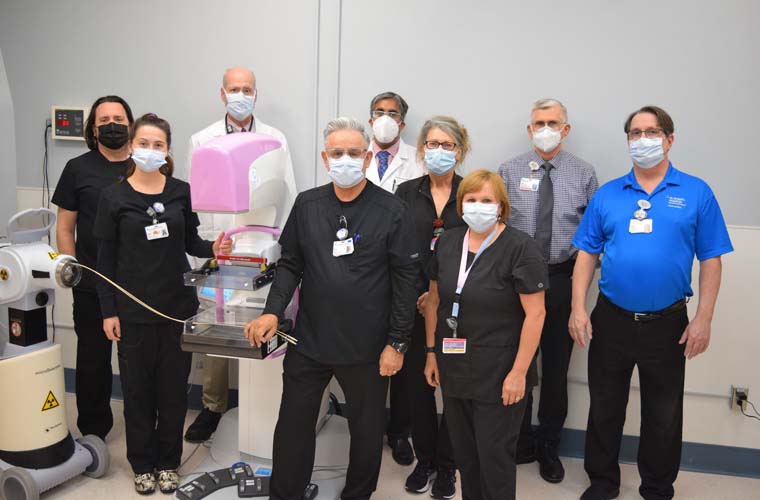 The radiation oncology team at St. Joseph's Cancer Institute. St. Joseph's Hospital is the first hospital in Tampa Bay to offer radiation therapy with PreciseRT.
St Joseph's Hospital has a new tool in the fight against breast cancer.

St. Joseph's Cancer Institute recently installed a cutting-edge radiation therapy technology called PreciseRT, which uses real-time mammogram data to help physicians find cancerous tissue, deliver targeted treatments and limit the exposure of stray radiation to healthy organs such as the heart, lungs and skin.

Each time a treatment is delivered, an image of the breast is taken so that the radiation oncologist can confirm the location of the cancerous tissue and adapt the size, shape and position of the treatment field to optimize treatment. This allows delivery of a radiation dose with clarity, precision and confidence.

St Joseph's Hospital is the first in Tampa Bay to offer this technique.

"Our goal at St. Joseph's Cancer Institute is to help patients beat cancer," said Dr. Nitesh Paryani, a radiation oncologist at St. Joseph's Hospital. "PreciseRT supports that goal for breast cancer patients by allowing us to target cancerous tissue and minimize potential uncertainties in radiation therapy. We're excited to be the first facility in Tampa Bay to offer this treatment option for our patients."

With PreciseRT, patients are seated upright very similar to the positioning needed for a mammogram. This positioning lowers the radiation exposure to other organs such as the chest wall, heart and lungs.

Additional benefits of PreciseRT include:
Speed: The treatment timeline is extremely flexible and can be done daily or twice a day, in most cases.
Ease: This treatment is noninvasive. This means no devices are implanted in the patients' breast(s), eliminating wound care treatment, potential infections and discomfort.
Safety: No traces of radioactivity are present after the session is over.
Precision: The real-time image guidance allows doctors to concentrate the radiation on the target, so that there's minimal radiation exposure to surrounding healthy tissue and neighboring organs.
This new technology expands St. Joseph's Hospital's state-of-the-art treatment options for cancer patients. The Cancer Institute recently launched new high-definition software that allows physicians to treat complex tumors in the brain, and adopted a technique called respiratory gating, which allows the radiation oncologist to track tumors as a patient breathes during treatment. And for treatment of prostate cancer, the St. Joseph's Cancer Institute offers a special medical device to help protect against injury to adjacent organs during radiation therapy. The addition of this device can reduce treatment to a few days compared to the standard six- to nine-week treatment for low-risk prostate cancer.

"We are constantly looking for new ways to provide the highest quality care for our cancer patients," said Michelle Moore, manager of St. Joseph's Cancer Institute. "With the addition of PreciseRT, we advance our mission in the fight against breast cancer."
For more information about St. Joseph's Cancer Institute, click
here
.