BayCare Makes Headway with New Hospital in Wesley Chapel
It's all hands-on deck at BayCare Hospital Wesley Chapel. Hundreds of construction workers hustle and bustle to help complete BayCare's newest state-of-the-art hospital in Pasco County.
"It's an incredible sight to see," said Rebecca Schulkowski, president of BayCare Hospital Wesley Chapel. "I'm proud to work with a phenomenal group of team members and construction workers who are working tirelessly to create a beautiful hospital campus for the community of Wesley Chapel."
BayCare, which broke ground on the project in Dec. 2020, has made significant progress on the project. The construction team has built up to the highest floor and installed walls and windows, including sealing and waterproofing, to prevent any weather impact.
The Emergency Department, operating rooms, procedure rooms, private patient rooms, cafeteria, kitchen and main lobbies are nearing completion and major utility equipment is installed.
Shannon Needham, project manager for BayCare Hospital Wesley Chapel, manages the construction project on the ground including overseeing architects, engineers and contractors. She says working on this project has been a rewarding experience.
"Even though I am on campus every day, I'm still amazed at how much progress we've made," said Needham. "We have about 300 hundred workers on site working diligently to complete the project. It's amazing to see how far we've come."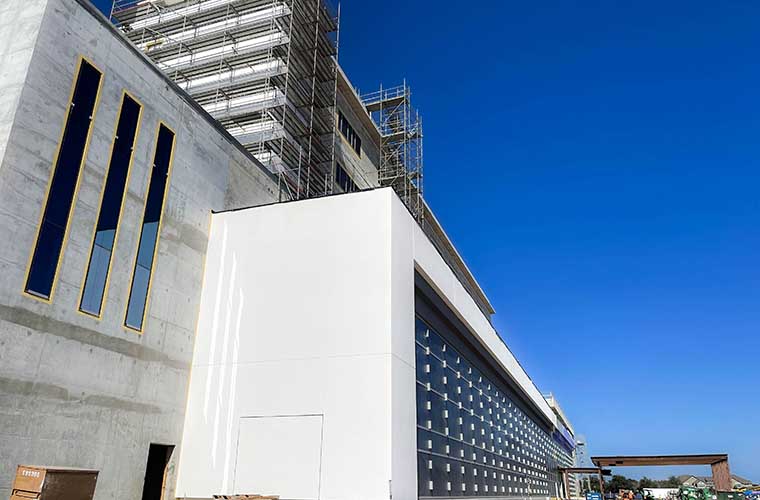 When completed, the 318,000-square-foot hospital will provide comprehensive medical services and health care resources including an emergency department, an intensive care unit with virtual-monitoring beds, diagnostic services such as imaging and lab, and physical rehabilitation.
"It's quite an endeavor, but we'll make this happen together as a team," said Schulkowski. "We're proud of the work we've done so far. We're on track and on time."
BayCare is investing $246 million to provide Pasco County residents with a new choice for health care services in the area. The health system also will hire hundreds of team members to serve the community at this new facility. The hospital is expected to open in early 2023.
The hospital in Wesley Chapel is one of BayCare's newest facilities in Pasco County. BayCare recently opened a new HealthHub in the Land O'Lakes area, a new model of care that helps provide access to multiple health care services under one location. These new facilities will expand access to convenient and high-quality care that helps meet the needs of the growing community.
For more information, visit BayCareWesleyChapel.org.