Tips for Staying Mentally Healthy this Holiday Season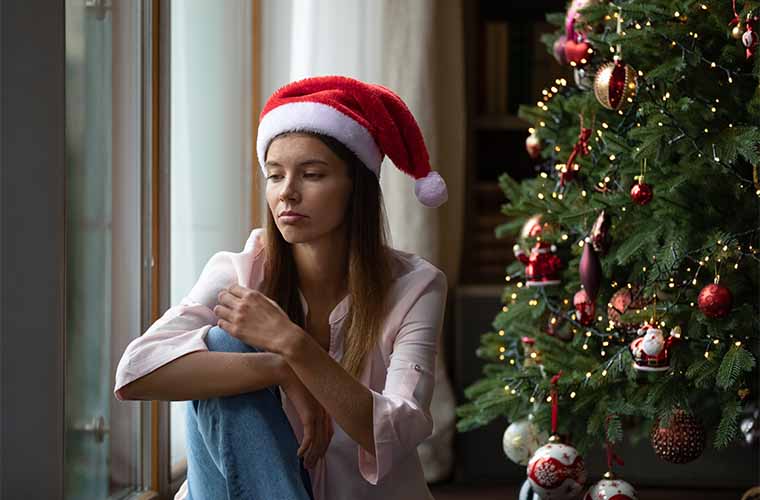 The holidays are upon us. Just that phrase evokes a wide range of emotions. It may be joy as individuals anticipate time with family and friends. It may be anxiety as the to-do list grows while the celebration gets closer. It may be despair if life just doesn't seem to measure up to expectations or desires. While some easily laugh with friends about anxiety surrounding the dreaded to-do list, talking about feeling hopeless isn't as easy, but it's just as important.
Though stress and anxiety occur throughout the year, the holiday season often magnifies these feelings.
Tracey Kaly, director of ambulatory clinical operations for BayCare Behavioral Health, says this happens for a variety of reasons that can range from being physically exhausted because of so many added activities to overspending on gifts to please others.
While feelings of stress and anxiety may seem out of control in the moment, anticipating them and planning for situations can help. Kaly offers a few helpful ideas.
Keep It Simple
"You aren't in a competition to make the tastiest dish for the party or buy the perfect gift," Kaly says. "Do what you can comfortably do. If cooking isn't one of your skills, buy something premade, but don't overspend. Set a budget and stick to it for everything from food to presents."
Maintain Healthy Habits
It's important to maintain a regular exercise routine, whether that's going to the gym or walking the dog. It will help to be active.
Kaly also advises to continue to eat as healthy as possible. "Give yourself permission to splurge at the party but not every day," she says.
Don't forget the importance of rest. Kaly says activities may crowd the schedule but do your best to get the rest you need.
Do Something for Yourself
The holidays are a time for giving but be sure to save time for you. "Schedule time to do something you enjoy whether it's going to a concert or staying home to watch your favorite TV show. Don't neglect yourself," Kaly recommends.
Just Say No
Finally, Kaly says it's okay to say no. "Give yourself permission to say no," she says. "You don't have to decorate for the office party or host the family dinner. If it is too much, just say so."

Often stress and anxiety can be controlled by following this advice or sometimes these feeling will dissipate after the holidays. Occasionally, anxiety doesn't go away, and it may intensify leading to more significant feelings of depression and hopelessness. In their highest severity, these feelings may lead to individuals being at risk for suicide.
Since 2020 the overall suicide rate and the total number of suicides have been increasing in the United States. According to the Centers for Disease Control and Prevention, suicide is the second leading cause of death for people ages 16 to 34 and the 12th leading cause of death overall.
Individuals considering suicide rarely seek help on their own, leaving it up to friends and family to take note and reach out.
"As a concerned friend or family member, it is important to be take the initiative," counsels Kaly. "Ask tough questions about feelings and ideas of self-harm. It may be uncomfortable, but it could save a life."
The National Institute of Health promotes five action steps to help people in emotional pain:
Ask – Are you thinking about killing yourself?
Keep them safe – Remove access to lethal items and places.
Be there – Listen carefully ad acknowledge their feelings.
Help them connect – Call or text the 988 Suicide & Crisis Lifeline number.
Stay connected – Follow up and stay in touch after a crisis.
If you know someone experiencing a mental health crisis during the holidays or anytime during the year, help is available. BayCare teams with community partners to operate Mobile Response Teams (MRTs) in Hernando and Pasco counties, and this free service is available in Hillsborough, Pinellas and Pasco counties as well.
MRTs provide trained and licensed behavioral health specialists 24/7 to help those experiencing a mental health crisis. MRTs diffuse the immediate crisis while also helping people in crisis get on a path for the long-term behavioral care that may be needed. Statistics prove that MRTs have significantly reduced Baker Acts, which occur when patients are sent involuntarily to a mental health treatment center for up to 72 hours to ensure they are not a danger to their self or others.

Phone numbers for the MRTs are:
Hernando – (352) 467-6529
Hillsborough – (813) 272-2958
Pasco – (727) 372-4357
Pinellas – (727) 362-4424
Polk – (863) 519-3744
"Whether it's you or someone you care about who is dealing with stress and anxiety or experiencing a mental health crisis, it's important to remember that help is available," says Kaly. "No one has to face this alone."
To learn more about BayCare's Behavioral Health services, go to https://baycare.org/services/behavioral-health.