BayCare HomeCare Nurse Makes Life Better for Patients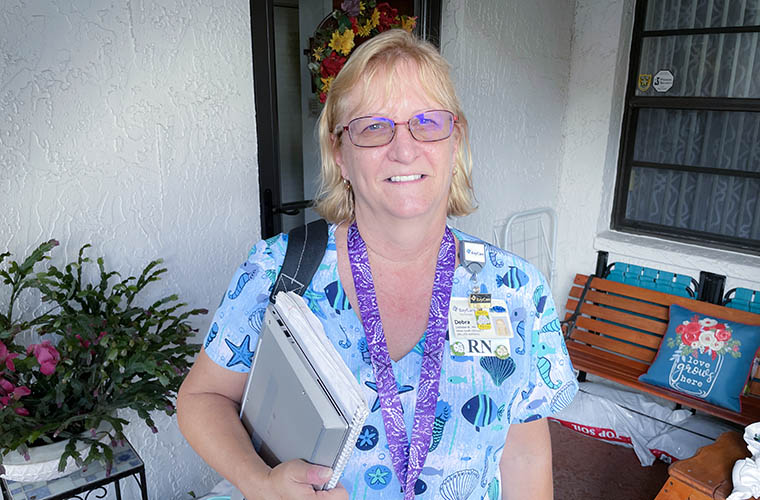 BayCare HomeCare nurse, Debralee Morgan, drives across Pasco County every day to provide home care for patients.
Morgan has been helping heal patients for more than 22 years, providing care with patience, love and compassion.
"This is a rewarding career, knowing you're making someone's life better," said Morgan, who is a nurse manager for BayCare HomeCare. "Even when I'm overwhelmed or facing challenges, I do this because I know I'm making a difference, and to me it's all worth it."
Morgan, who began her nursing career at BayCare more than 22 years ago, helps provide care for patients recovering at home after injuries or surgeries and others suffering from chronic conditions like diabetes or heart disease.
"As a homecare nurse, I visit my patients once a week and walk them through their recovery process, check their vitals, provide nutrition education and address any health concerns," said Morgan. "We take the time with each patient, and we develop a close relationship with them. They are more comfortable in their home environment, and when we talk to them, they open up and share details about their health that they may not share with their physician."
Morgan says patients trust homecare clinicians. That's how BayCare HomeCare patient, Joann Hebert, 87, feels about Morgan and the care she's been receiving so far. Hebert, who resides in Port Richey, suffers from rheumatoid arthritis, had multiple surgeries, and experienced a few falls this year.
Morgan visits Hebert once a week when she checks her vitals, walks her through the recovery process, provides nutrition information and takes care of her wound from a recent fall.
"I've been dealing with a lot of health issues this year, but Debralee makes me feel better," said Hebert. "Debralee is a good nurse. She explains everything in simple terms, takes her time and knows where I stand. It's important for me to have someone who can listen and understand me. She makes my health recovery smoother and quicker."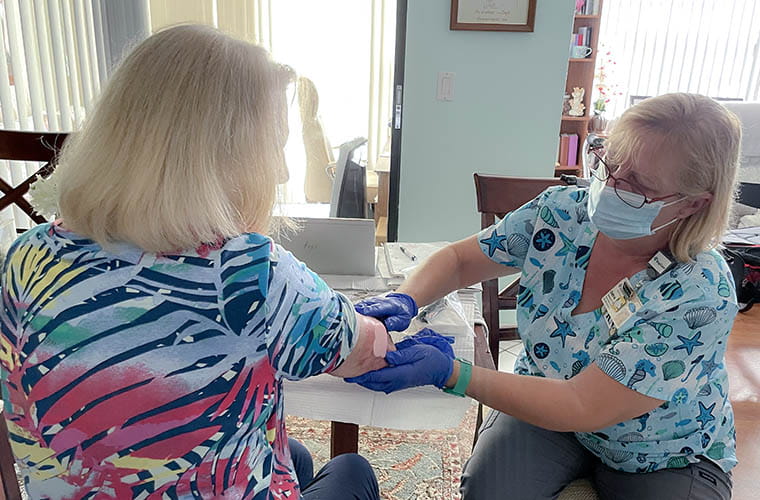 Debralee Morgan visits HomeCare patient, Joann Hebert, 87, at her home in Port Richey.
Due to the recent falls, Morgan connected Herbert to Carelink, an innovative medical alert system available through BayCare HomeCare which provides monitoring 24/7. If Hebert falls in the future, she can immediately press a button to call 911 and notify her family members. This gives Hebert and her family a peace of mind.
"I'm grateful for Debralee for taking care of me," said Hebert. "She is helping me recover and stay healthy. She comes to my house and that's convenient and a great relief. She is one of the best."
Morgan loves being a HomeCare nurse. Making people feel better is her biggest joy and passion. Morgan's devotion to nursing has been recognized across the system. She is a three-time Daisy Award winner, an award given to nurses who help provide extraordinary, compassionate, and skillful care for patients and their families.
"It's humbling to know I've been recognized for my work," said Morgan. "It's rewarding to have patients come forward, write letters of appreciation, and share how I've made a difference in their lives. It's a great feeling."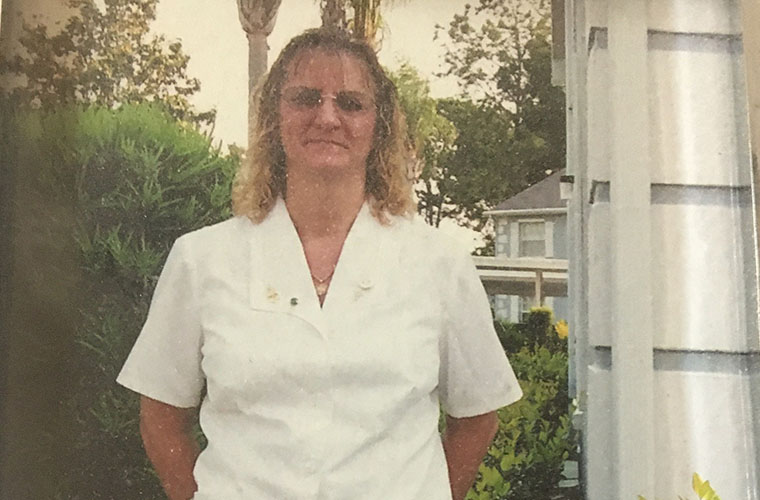 Debralee Morgan during her first week at BayCare.
After practicing for 22 years, Morgan wants to encourage the new generation to get into homecare nursing. "If you have passion for nursing, do it. It's a rewarding career. When your patient hugs you because they could not have gotten through a cancer or diabetes diagnosis without you, it's just a great feeling," says Morgan.
Morgan contributes her continued success as a nurse to BayCare. She says the health system has been a great support system, providing growth opportunities, continuous training and education reimbursement. She started her nursing career at Mease Countryside Hospital in the Telemetry unit, moved to the Intensive Care Unit, and later became a homecare nurse.
"I truly enjoy working at BayCare," Morgan said. "Everyone is supportive and goes above and beyond. We work together as a team and communicate among different disciplines to provide top quality care for our patients."
As one of the largest home care providers in Florida, BayCare HomeCare has been delivering high-quality clinical care to patients across the state since 1976. BayCare HomeCare offers services in 13 counties on the west coast of Florida including home health nursing and rehabilitation, disease management support, infusion pharmacy services, medical equipment, oxygen and respiratory services and supplies. For more information, visit BayCare.org/HomeCare.
For more information on BayCare careers, visit BayCare.org/Careers.